Wedi Fundo Primo Shower Kit

Waterproof Shower Systems offer reliable, cost-efficient solutions for constructing 100 % waterproof and mold proof showers. These systems are easy to install and open up a whole new world of design possibilities for showers, wet areas and baths. wedi shower systems blend the traditional values of design flexibility and robustness while offering the added benefits that come with state of the art material and manufacturing technologies. Used in combination with wedi Building Panels on walls, our shower bases offer an excellent alternative to traditional installation methods. The modular system character is defined through an interlocking system and installation methodology using wedi's 'Z-Notch connections'. These are channels in at the perimeter of wedi shower bases into which wedi building panels and other components lock and seal. These channels are minimum 1/2" wide and a minimum of 3/8" deep, but may otherwise be modified to fit field conditions and accommodate a tight fit between parts and wedi joint sealant in between. No more presloping, pan liner cracks or membrane pin holes, clogged drain weepholes and mold growth. Plus, reduce the traditional installation time and down times for a full shower floor preparation for tiling from 2 – 3 days to now 30 minutes. Fundo is available as point drain, linear drain or special floor level shower systems. Once installed it is a tough floor element with no sponginess which is known to be a characteristic to many foams and especially EPS or expanded polystyrene foams. On wedi: put up a ladder, walk on it, work on it. You may also drop a tool without inflicting irreparable damage..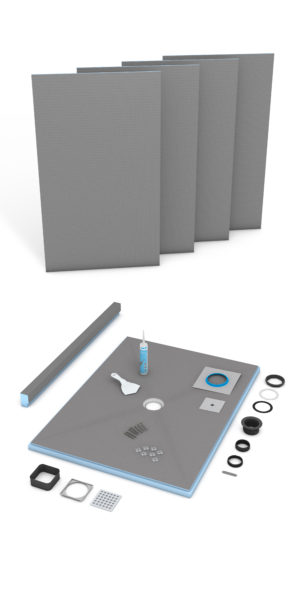 Content of wedi Fundo Primo Shower Kit:
- 1 wedi Fundo Pan
- wedi building panel to cover up to (3) 80" walls
- 1 drain assembly
- 1 full foam curb
- wedi Joint sealant
- fasteners
- wedi putty knife
- includes wedi installation DVD
Wedi Fundo Riolito Neo Shower Kit

thinks and creates systems for added value in the wet room. The wedi Fundo Riolito neo Shower Kit is a one-box only complete kit for the creation of a corner shower that is level with the floor. It contains all materials that are required for a watertight corner shower with linear drain: a reliable floor construction consisting of a Fundo Riolito neo floor element, drain system, wedi building panel wall solution as well as sealing and installation accessories.
Content of wedi Fundo Riolito neo Shower Kit:
- 1 wedi Fundo Pan
- wedi building panel to cover up to (3) 80" walls
- 1 drain assembly
- 1 full foam curb
- wedi Joint sealant
- fasteners