Ardex primers are suited to prime concrete, tile and other structurally sound and solid substrates- porous or nonporous. Improves the adhesion of other toppings.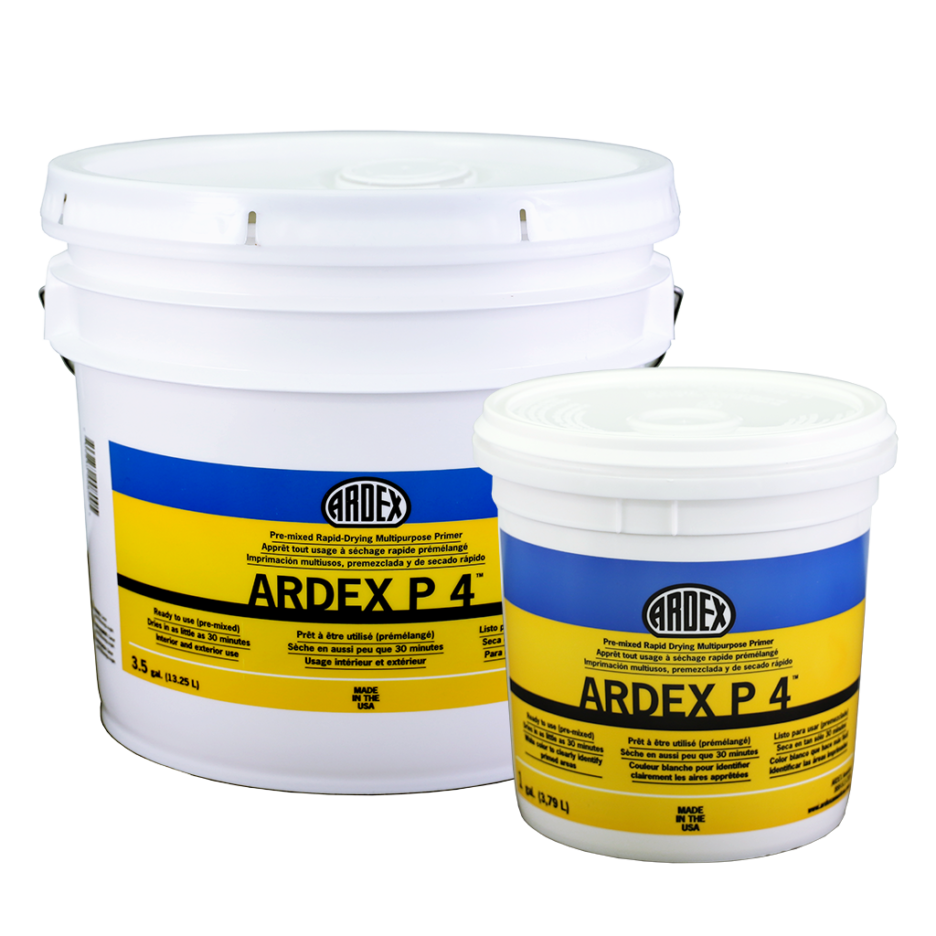 ARDEX P 4™ PREMIXED PRIMER
Vendor Item #P 4- Style #AR-LEV P4-1G
#AR-LEV P4-3.5G
Pre-Mixed, Rapid-Drying, Multipurpose Primer
ARDEX P 4™ is a pre-mixed, single-component, rapid-drying, multi-purpose primer. Ideal for use over porcelain, ceramic, most natural stone tile as well as over concrete, cementitious or epoxy terrazzo and cement screeds. For use prior to the installation of ARDEX Tile & Stone Installation Systems and most ARDEX Self-Leveling Underlayments.
Coverage- 1 gal. (3.79 L) unit: 300 sq. ft. (27.8 sq. m)
Ideal for Tile over Tile installation
Textured surface for tenacious bond
Rapid setting- Dries in as little as 30 mins
Drip and splash free consistency
Interior and exterior use
Packaging: 1 gal. or 3.5 gal.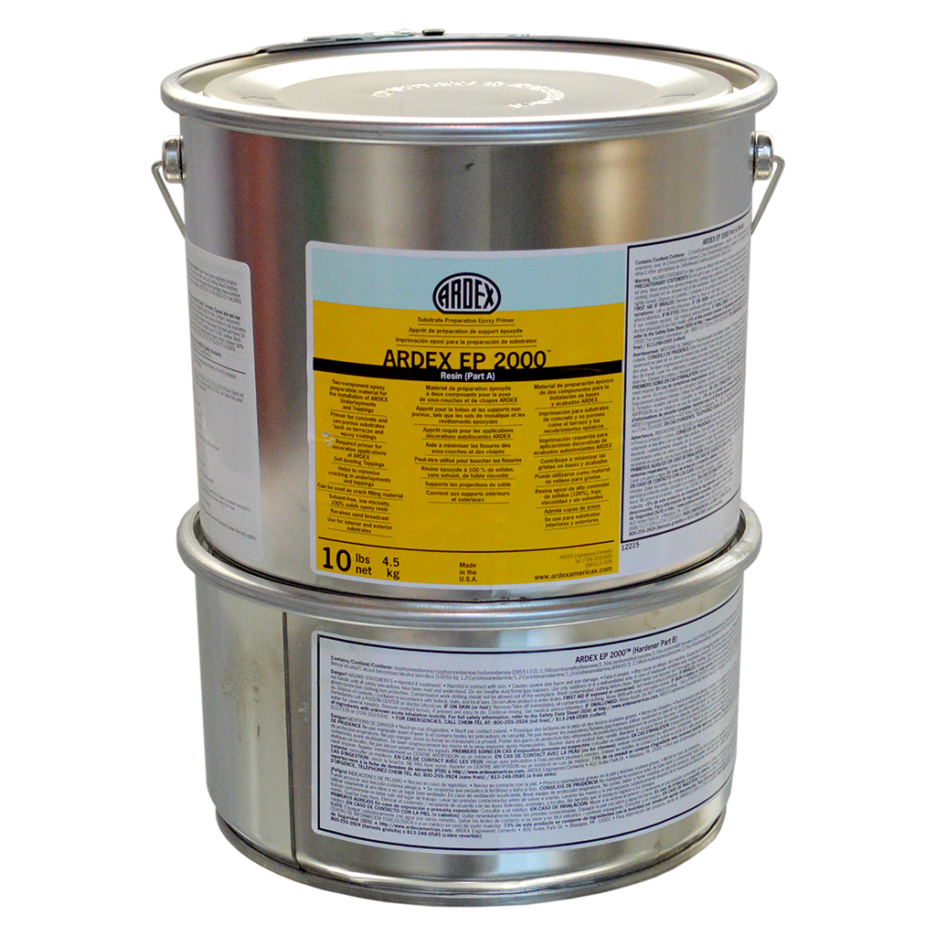 ARDEX EP 2000™ 2 PT EPOXY PRIMER
Vendor Item #EP 2000
Substrate Preparation Epoxy Primer
ARDEX EP 2000TM is a two-component, 100% solids epoxy resin primer formulated for use with ARDEX Underlayments and Toppings. It is especially suited to prime concrete and other structurally sound and solid substrates. Install over: terrazzo, epoxy coatings and ceramic and quarry tile, prior to installing ARDEX products.
Coverage- 150 to 200 sq. ft. (13.9 to 18.2 m2)
Interior or Exterior
Walkable 6 hrs after sand broadcast
Install underlayment 16hrs after sand broadcast
Required primer for all toppings
Can provide secondary top-down waterproofing
Can be used as crack filling material
Receives sand broadcast
Low viscosity & solvent-free
Packaging: 10lbs.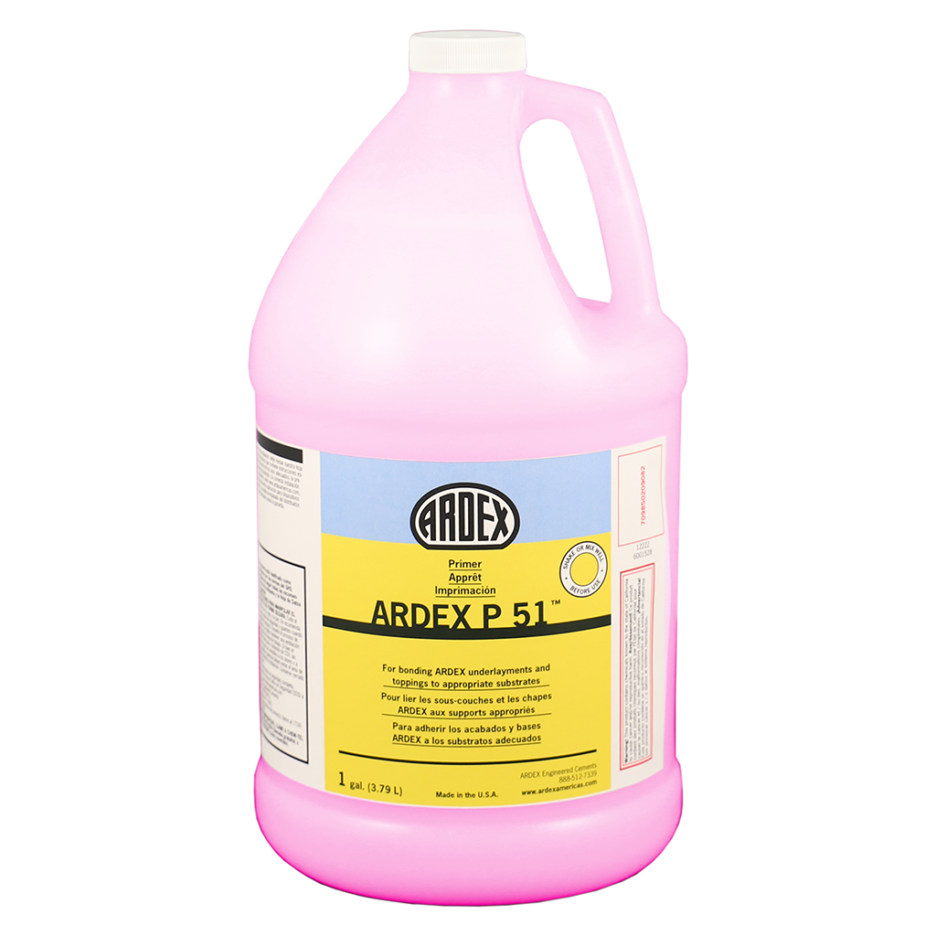 ARDEX P 51™ Primer
Vendor Item #P 51 - Style #AR-LEV P51-PR
Bonding Primer
Improves the adhesion of ARDEX products. Install over: standard absorbent dry concrete substrates and other substrates in specialized applications; over wood use ARDEX GS-4™ or ARDEX Liquid BackerBoard®. Non-porous substrates must be primed with ARDEX P 82TM Ultra Prime.
Packaging: 1 gallon (3.79 L) plastic bottle/ Also available in 4 gallon (15.14 L) plastic pail.
Coverage: 400 to 600 sq. ft. per gallon (37 to 55 m2)
Dry time: 3 to 24 hrs.
Concentrated Primer - dilute with water.
Solvent free
Interior use
Seals the substrate
Also for use on balconies and terraces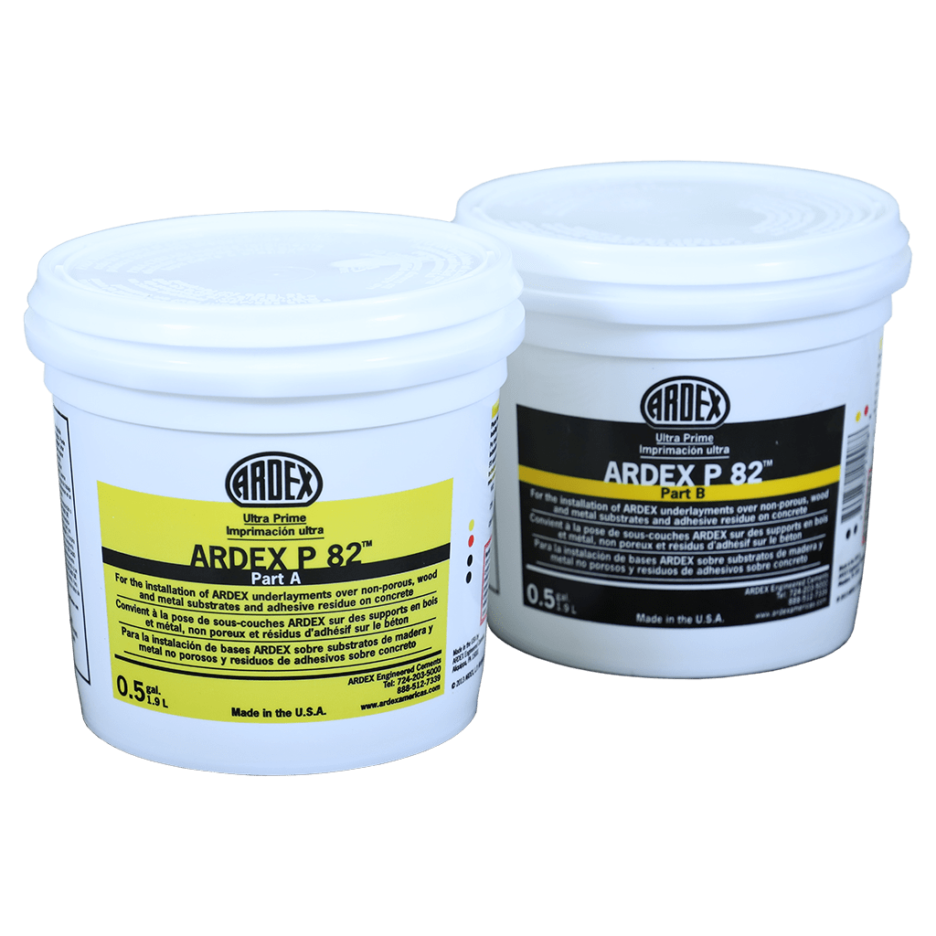 ARDEX P 82™ 2 COMPONENT PRIMER
Vendor Item #P 82- Style #AR-LEV P82-PR
Ultra Primer
Improves the adhesion of ARDEX products. Install over: smooth, non-absorbent substrates such as ceramic and other stone tiles, terrazzo, epoxy and metal decking; ARDEX P 82 is also used over wooden subfloors, including plywood and strip wood, as well as over cutback and other non-water-soluble adhesive residues.
Waterbourne 2 Component Primer for interior use
Solvent free
Seals substrate
Packaging- 2 1/2 GAL containers
Dry time- 3 to 24 hrs
Coverage- Varies from 300 to 600 sqft according to how porous the substrate
SLUs, Patch, Primers, Thinsets, Shower Systems & Moisture Mitigation
Ardex Products
are the industry benchmark for contractors, installers and architects.