A Listello is a band of decorative tile or mosaic tile that serves as a visual break of larger tiled areas. If tiling an entire wall with the same tiles from floor to ceiling, consider breaking up the monotony with a Listello. Listellos can also be utilized on floors as well, although not as common. These tiles come in a wide variety of material including ceramic, porcelain, glass, metal and combinations. A Listello may be the same design but textured or cut differently than the larger tiles.
A Bullnose tile is recognizable by its rounded edge or edges and is considered a trim piece for tile. It is used to eliminate sharp or rough edges of a finished tile design. Many tile lines have matching bullnose pieces. Bullnose tiles are a good option for finishing up your tile work because they look beautiful, function well for decorative trim and also protect your corners. Bullnose tiles also can be used to replace baseboard on a tiled floor. Corner bullnose tiles have two rounded edges and are used to finish off corners.
Porcelain is generally harder than ceramic offering a greater design flexibility. Both porcelain and ceramic are made from clay and fired in a kiln. Both have naturally occurring materials, but porcelain is typically more refined and purified, fired at a higher temperature and a greater pressure than ceramic and therefore, extremely more dense and hard. After some years, porcelain has proven to be long-wearing, leaving a greater mark on the industry than ceramic. Porcelain is ideal for colder climates because the moisture absorption rate is around .5 percent or less and makes it less likely to crack and impervious to staining.
When choosing tile, look for a "through body color." Some tiles are glazed with color, then when chipped will expose the white, tan or red base of clay on the underside. For flooring, look for a high coefficient friction rating- scales from 1 to 10- 10 being the most slip-resistant. What's great about porcelain, is that it can be rectified (each tile cut to precise identical sizes), allowing the contractor to set tile with tight grout lines.
A mosaic tile is an inlay design consisting of tiles around the size of 2" square. Patterns vary greatly. Some feature a multitude of different materials while others may vary in color or shapes. They may be made from glass, stone, metal or porcelain. Styles available may be square, arabesque, mini-brick, penny round, basketweave, hexagonal, chevron, herringbone and others. These tiles are used to design a space that is intended to make a statement or show intricate design. Good choices are backsplashes, small area walls, fireplaces and surrounds.
How do I measure for new tile?
Measure the length and width of the room or wall. Multiply the two numbers together to get the total square feet of the room. Subtract square footage of large objects that you will tile around.
Tile is sold in boxes, typically containing 10 or so pieces. The total square footage is located on the box. Divide the total square footage of the room or wall by the total square footage on the box. The result will be the minimum number of boxes to purchase.
But cuts, waste, breaks and mistakes should be taken into consideration. Multiply the total square footage of the job by 10%, then add that number to the original square footage. Now divide the new total square footage of the job by the square footage on the back of the box and you should have enough to complete your project.
What are the best quality tiles?
Not all tiles are created equal. Some tiles are designed to be used for flooring while others are designed to be used on walls. There are some key features that all tiles are graded by though and they are usually listed on the back of the package or in a sample brochure.
Tiles are graded using a numerical numbering system based on thickness and overall quality.
Grade 1 (Standard)- 3/4" thickness- use anywhere.
Grade 2 (Secondary)-  1/2" thickness- useable for walls and floors.
Grade 3 (Cull)- 1/4" thickness- recommended for walls.

---
Wear Rating and Scratch Resistance
The
Porcelain Enamel Institute
rates glazed tiles on their ability to resist abrasions.
PEI- I or II
- not suited for installation on floors.
PEI- III or higher
- suited for floor tiles.
PEI- IV
- suited for high traffic areas and commercial areas.
The
MOHS scratch test
applies to both glazed and unglazed tiles:
MOHS- 1
- Talc or Soft
MOHS- 10
- Diamond or Hardest
MOHS- 5+
- Recommended for residential flooring.
---
Water Absorption and Frost
Non vitreous rating- Not recommended for wet environments. This tile absorbs more than 7% of its weight after soaking for 16 hours.
Vitreous or Impervious- Recommended for wet or damp areas and are frost resistant.

---
Coefficient of Friction
>.50 foot pounds-
safe for home floor installation. Friction is greater, making it safer not to slip and fall on the installed tiles.
>.60 foot pounds-
safe for commercial floor installation.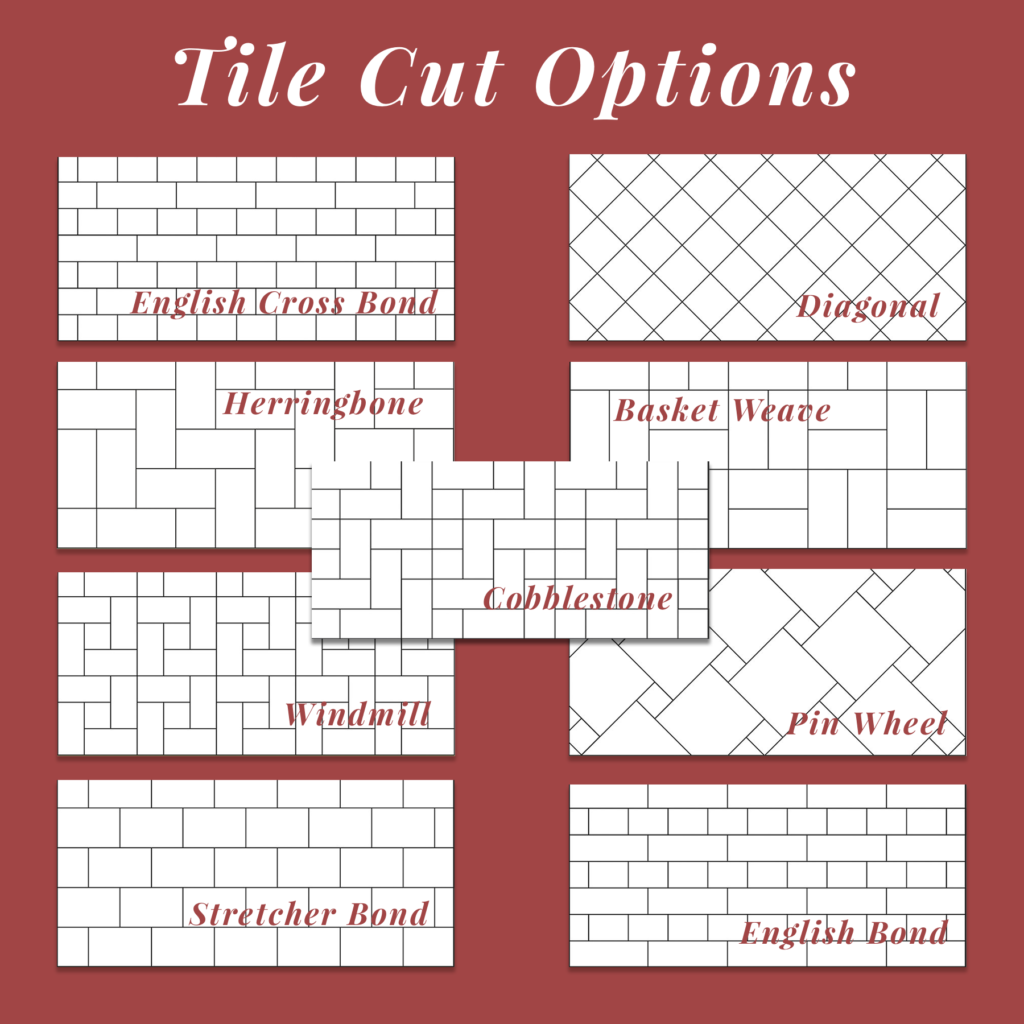 Some interesting elongated hexagonals, slabs with engraved patterns, and backsplashes all the way to the ceiling are predicted for 2019. This year, wood grains, larger tiles for flooring and listellos are popular.
After mortar has been applied wait for at least 24 hours before grouting. Then after grouting, thoroughly clean tiles with a damp sponge to remove grout from the surface of the tiles. Then wait at least 24 hours before walking on the tiles.
Tile has a wider variety of uses than any other surface covers in the industry. Tiles are made specifically for certain applications and it is important to understand the key features and package information. When installing tile outside, choose a tile with a slip resistant surface that is rated for outdoor use. Porcelain tile absorbs less water than ceramic tile. Always apply a waterproofing membrane, such as RedGard, before tiling an outdoor slab. Use a mortar that is also rated for outdoor use. Grouts should also be rated for outdoor use.
If a tile has been rectified, the edges have been ground or sawed after firing so that the overall size of the tile is more precise or exact. Rectification is a process that occurs after the tiles are fired. For both porcelain and ceramic tiles, the firing process can create up to a 1.5% variation in size and taken into account when the tile is being installed. The process is a grinding and sawing process that is meant to rectify this variation. The preciseness of size now allows the installer to lay tiles closer together reducing the width of the grout line.