Ardex Uncoupling and heat membranes are built to allow continuous mortar connection throughout, a unique feature only found in the FLEXBONE® design delivering more strength and conductivity versus traditional membranes. The innovative GripLock Technology provides up to 50% more tensile bond strength, and installers appreciate that FLEXBONE® Membranes have very little memory, rolling out flat.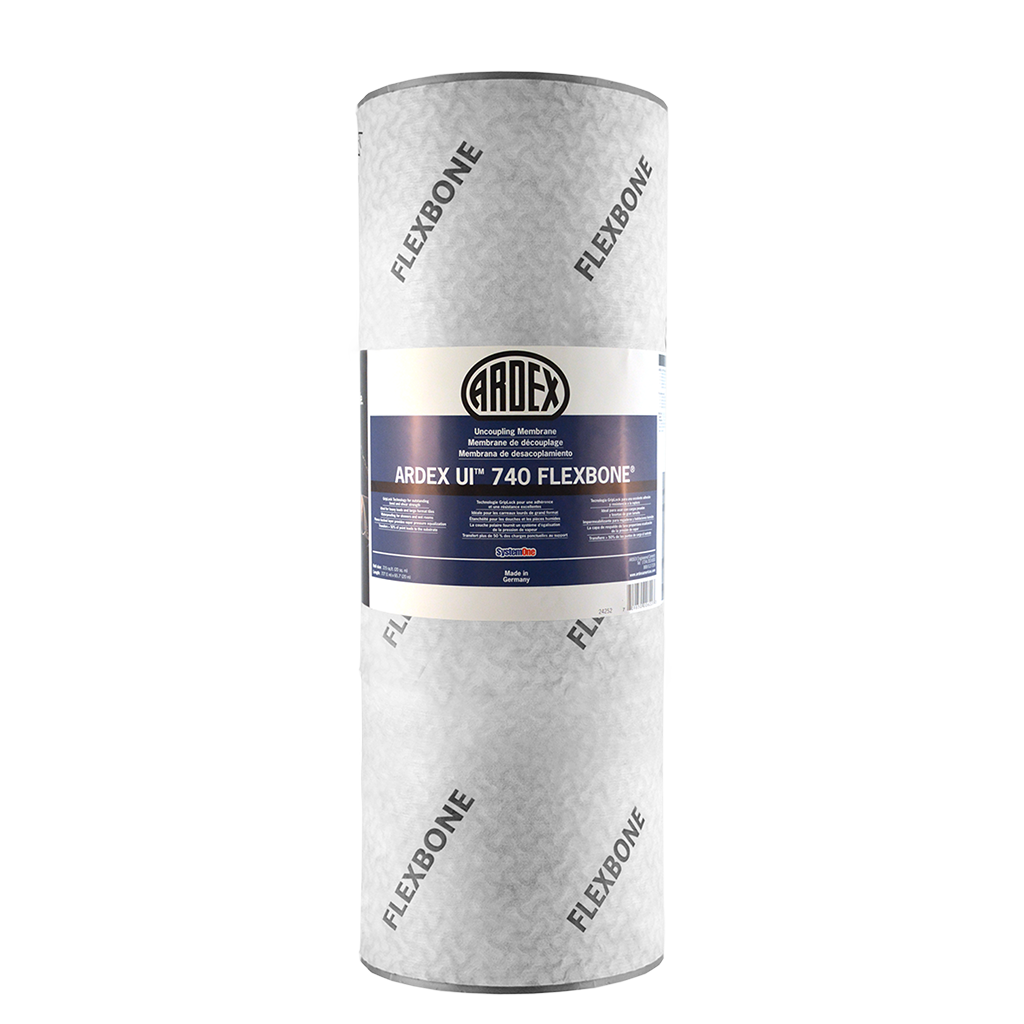 ARDEX UI 740 FLEXBONE™
Vendor Item #UI 740- Style #AR-UNC UI-740
Uncoupling Membrane
ARDEX UI 740™ FLEXBONE® Uncoupling Membrane is a high load-bearing uncoupling membrane ideal for large format tile in high traffic areas. The unique bone-shaped pattern with GripLock Technology delivers outstanding tensile bond strength. The system helps neutralize underlying substrate movement and supports and distributes heavy loads from above. Special high-performance felt helps provide vapor equalization. ARDEX UI 740 FLEXBONE can be used as a waterproof layer in bathrooms and wet areas.
PRODUCT ENHANCEMENT: Now with added ventilation channels
Prefill with just one pass
High load-bearing uncoupling membrane
Ideal for large format tile and stone in heavy traffic areas
For use with porcelain, ceramic, quarry and natural stone tiles
Helps prevent grout joint and tile damage from substrate movement
Suitable as a waterproofing membrane
For use in high stress areas, such as shopping malls, airports, office buildings, hospitals, etc.
For use over wooden or concrete substrates
Can be prefilled with ARDEX Liquid BackerBoard® Self-Leveling Underlayment
Packaging: 3'3" x 65'6" - 215 sqft/roll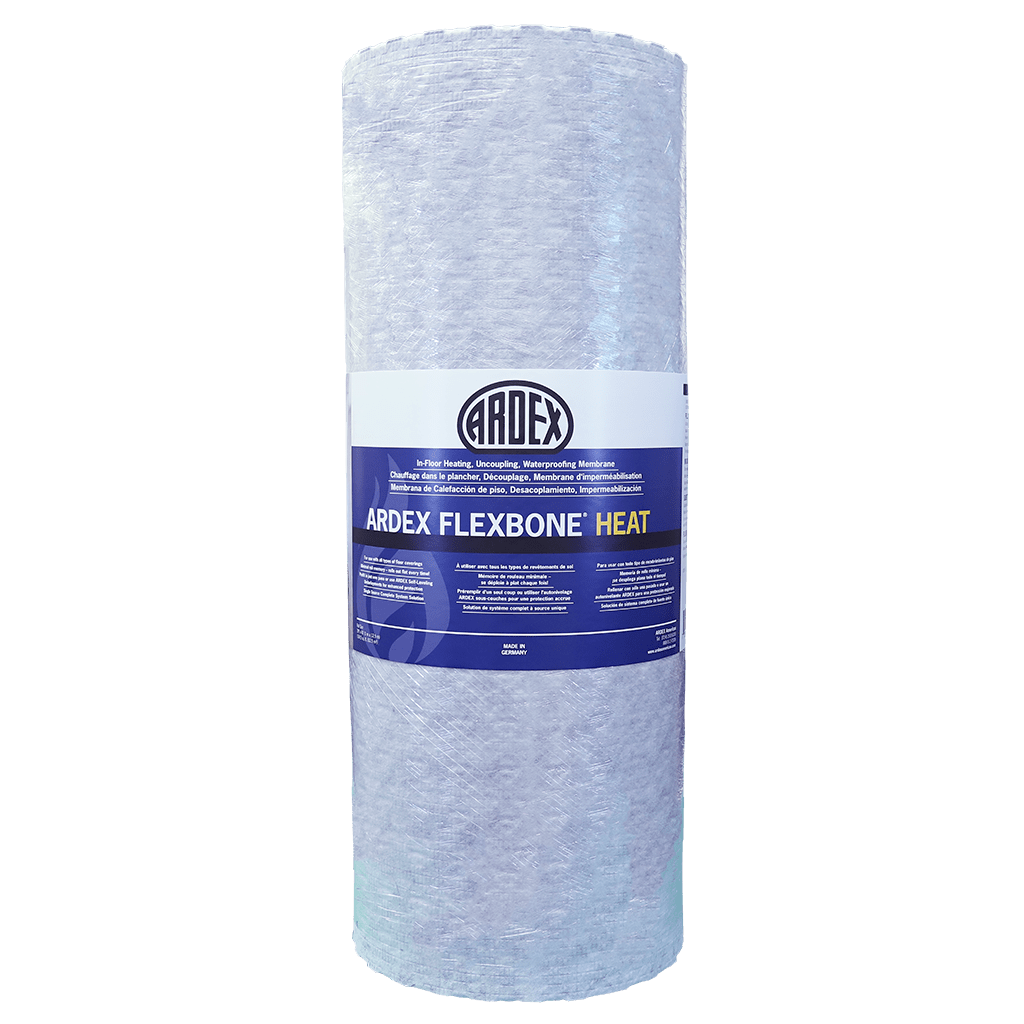 ARDEX UH 900 FLEXBONE™
Vendor Item #UH 900- Style #AR-HEA UH-900
In-Floor Heating Systems, 3-in-1 Membrane
ARDEX FLEXBONE® HEAT is an electrical in-floor heating system for use with tile or stone. The unique crossbones pattern provides less touch points between the cables and the membrane, and less air space within the mat structure, providing faster and more efficient heating of the floor covering. The unique design also allows for easy prefilling in just one pass with ARDEX high-performance mortars, or approved ARDEX Self-Leveling Underlayments can be used for easier, faster prefilling to fully encase the heat cables. ARDEX FLEXBONE® HEAT can be used as a waterproofing layer in bathrooms and other wet areas. Ideal for large-format tile and stone installations, ARDEX FLEXBONE® HEAT is also an uncoupling membrane that helps to prevent grout joint and tile damage from underlying substrate movements.
3-in-1 In-Floor Heating, Uncoupling and Waterproofing
Uncoupling: protects tile and grout joints from shear movement in the substrate
Waterproofing: for use in bathrooms, laundry rooms and other wet areas
Maximum heat efficiency, more heat comfort with less energy usage
Minimal roll memory – rolls out flat every time!
High quality heating cables – more efficient, easier to install, less cable required
Ideal for large-format tile and stone installations
FLEXBONE® Effect: prefill with mortar in just one pass
ARDEX Self-Leveling Underlayments; prefill option that fully encases cables
Single-Source, Complete System Solution
10-Year system warranty
Packaging:

1/4″ (6 mm) Mat – 39″ wide x 41′ long (1 m wide x 12.5 m long) - 

133.25 sqft/roll
SLUs, Patch, Primers, Thinsets, Shower Systems & Moisture Mitigation
Ardex Products
are the industry benchmark for contractors, installers and architects.