Exceptional Self Leveling Underlayment

Platform L3
#DE-LEV PLAT-L3
Premium High-Flow, High Strength, Self-Leveling Underlayment:Synthecem™
L3 is a premium SLU that addresses out-of-level or damaged floors in residential, commercial & institutional environments for a smooth, hard surface.
50lb bag PL350
> 5000 psi
Feather - 2+"
Rapid Application (12 hrs)
Extendable with Sand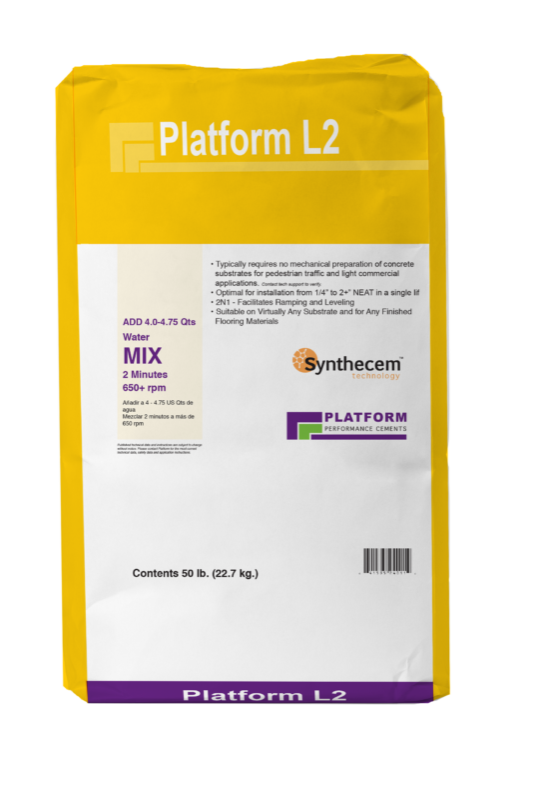 Platform L2
#DE-LEV PLAT-L2
Hydraulic Cement- Reduced Preparation, Self-Leveling Underlayment; Synthecem™ Technology
L2 addresses out-of-level or damaged floors in residential, commercial, institutional and renovation environments for a smooth hard surface.
50lb bag PL250
> 4100 psi
Feather - 2+"
Rapid Application (16 hrs)
Extendable with Sand
Platform Primer & Moisture Mitigation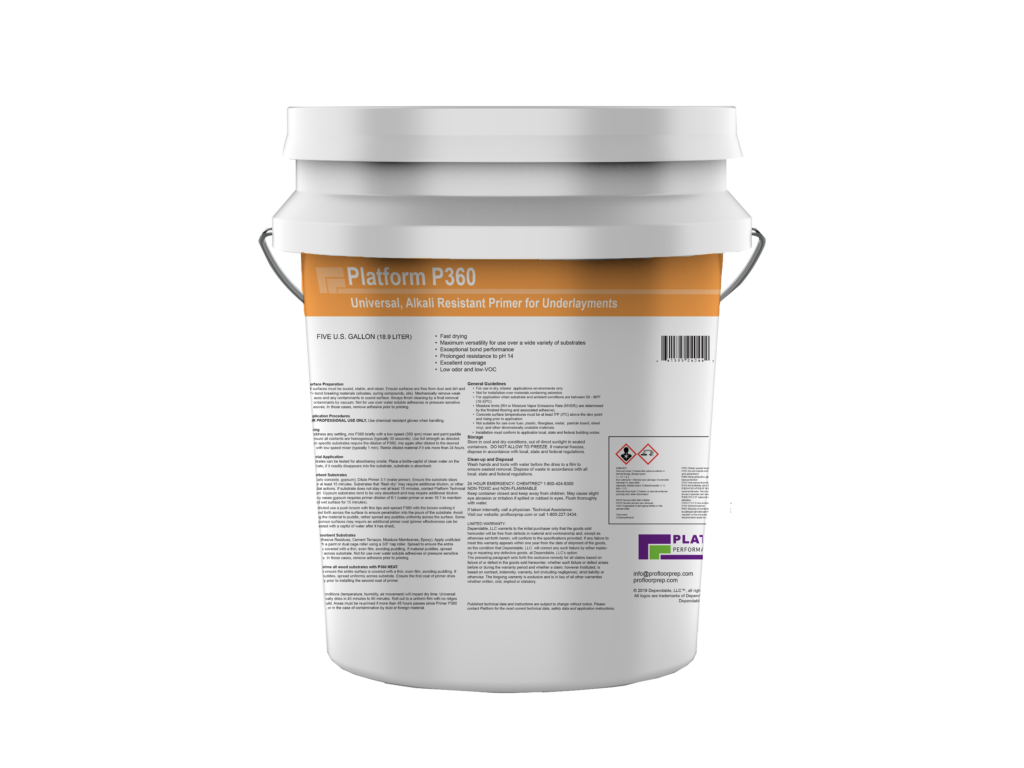 Primer P360
#DE-PRI-PL-P3605G
Universal Primer for Underlayment and Patch; Breakthrough Acrylic Copolymer Technology.
P360 provides excellent coverage and easy handling. Suitable for a wide variety of porous and non-porous substrates making it the only required prime in typical SLU installations.
5gal pail PP360-5
4x 1gal jug/case PP3604x1
Alkali Resistance to pH 14, Low VOCs, Fast-Drying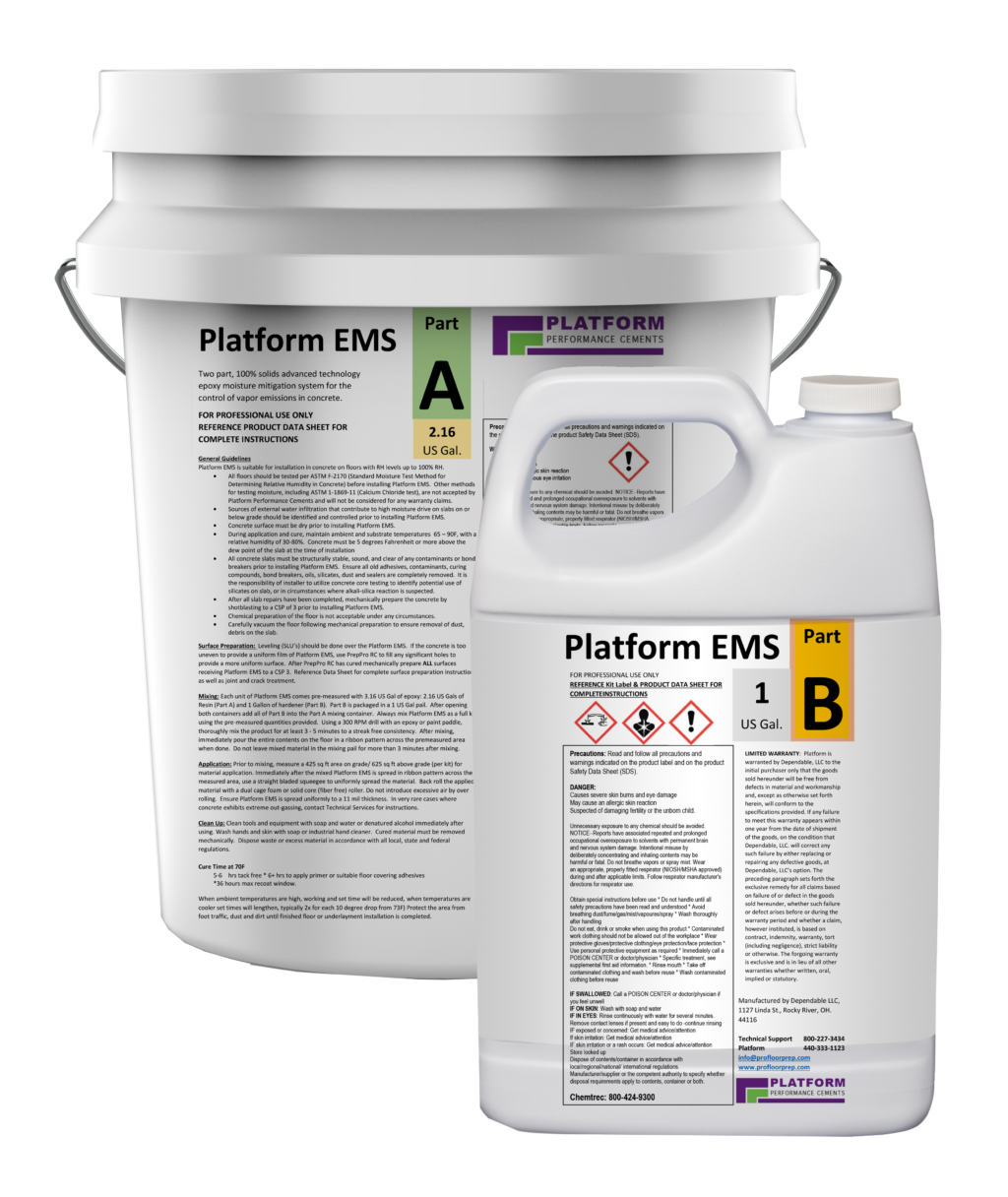 Platform EMS
#DE-MOI-PL-EMS
VOC Compliant, No Benzyl Alcohol, No Nonylphenol, High pH Resistance
EMS is a two-part, 100% solids epoxy moisture mitigation solution perfect for concrete subjecto to high moisture (RH). Meets ASTM F3010-13 standards when tested per ASTM E96 at 12 mils thichness.
3.16gal Kit/Box PEMS3.16
Effective to 100% relative humidity (ASTM F2170-11)
25 lbs MVER (ASTM F1869-11)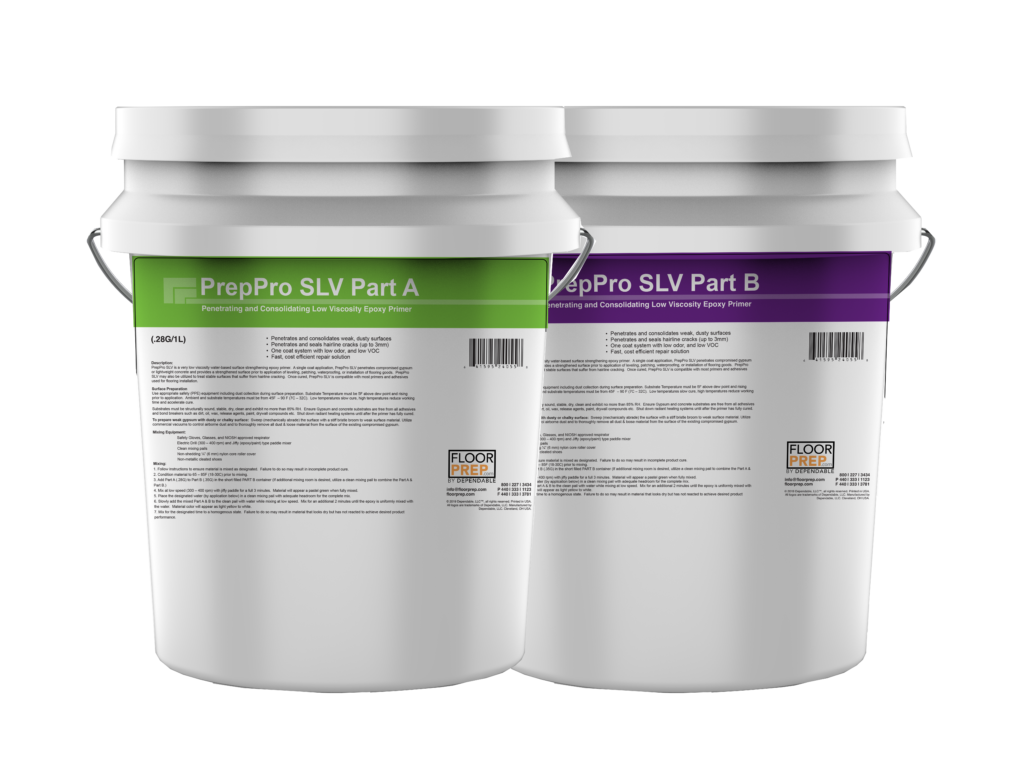 PrepPro SLV™
#DE-MOI-PREP-SLV
Water-Based, Surface-Strengthening Epoxy Primer; Penetrates Compromised Gypsum or Lightweight Concrete.
Provides a sound, strong, consolidated surface prior to flooring repair. typically compatible with primers and adhesives for non-absorbent surfaces once cured.
.63 gal kit/box PPSLV63
Single-Coat Application with Low Viscosity

Platform's Self-Leveling Underlayments (SLUs) utilize the Synthecem Cement System, providing superior volume stability, high strength, and a smooth surface for flooring installations. Engineered to perform in jobsite condition, the hydraulic cement technology offers superior outcomes over both excellent and compromised substrates.
Platform Technical Data Sheets
Uses and Installation
ENGINEERED FOR ROBUST FIELD PERFORMANCE
...Designed products for maximum field versatility and robustness to perform in the real world.
SLUs, Patch, Primers & Moisture Mitigation
Platform Performance Cements
offer outstanding dimensional stability, bond, self-leveling and smoothing characteristics.