wedi® Installation Accessories & Tools are necessary to assemble shower kits, building panels and wet areas. Lint Tile offers additional products needed for the installation to guarantee maximum safety and easy handling.
wedi® Sealant Accessories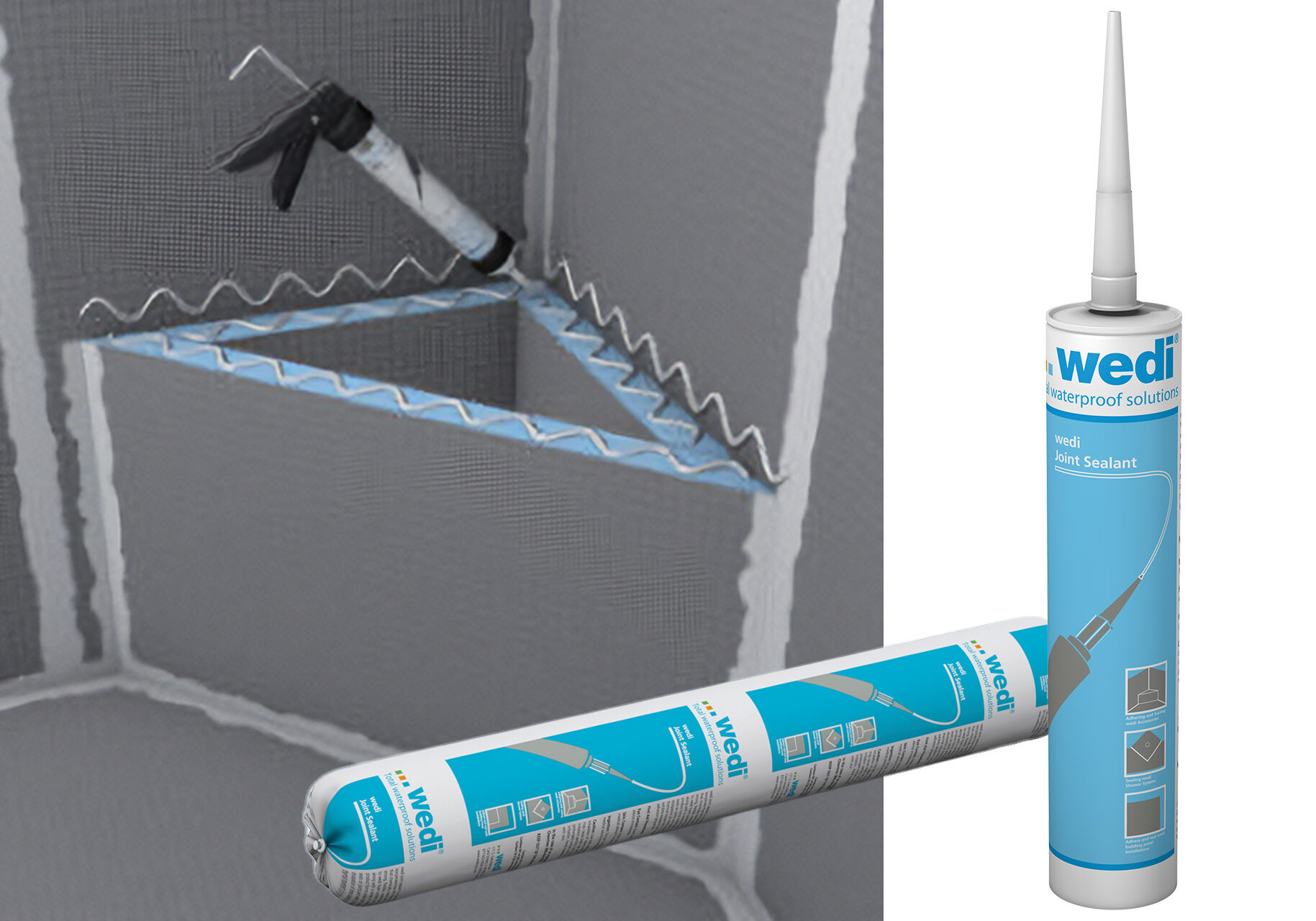 JOINT SEALANT
Vendor Item #US5000013- Style #WE-SEA JO-SEA
Vendor Item #US5000010- Style #WE-SEA JO-SEA20
wedi® SMP Polymer Sealant and Adhesive
A flexible sealant and construction adhesive that creates strong connections between wedi assembly parts without additional tape reinforcement—used for standard wedi shower installations with the wedi Fundo Primo, Fundo Ligno and Fundo Riolito. Use in wedi shower assemblies to adhere, seal and reinforce seams and connections and waterproof fastener points (No additional taping). A single component Silyl Modified Polymer (SMP) especially formulated for high green strength (high immediate internal strength), adhesion in wet and alkaline environments, and permanent flexibility. The product forms strong connections between wedi components and provides watertight seals on and in joints and seams, and allows for dissipation of stress caused by shock, vibration, or thermal movement. It is used to waterproof, connect and reinforce seams or fastener points.
Packaging: 10.5 oz Cartridge or 20 oz Sausage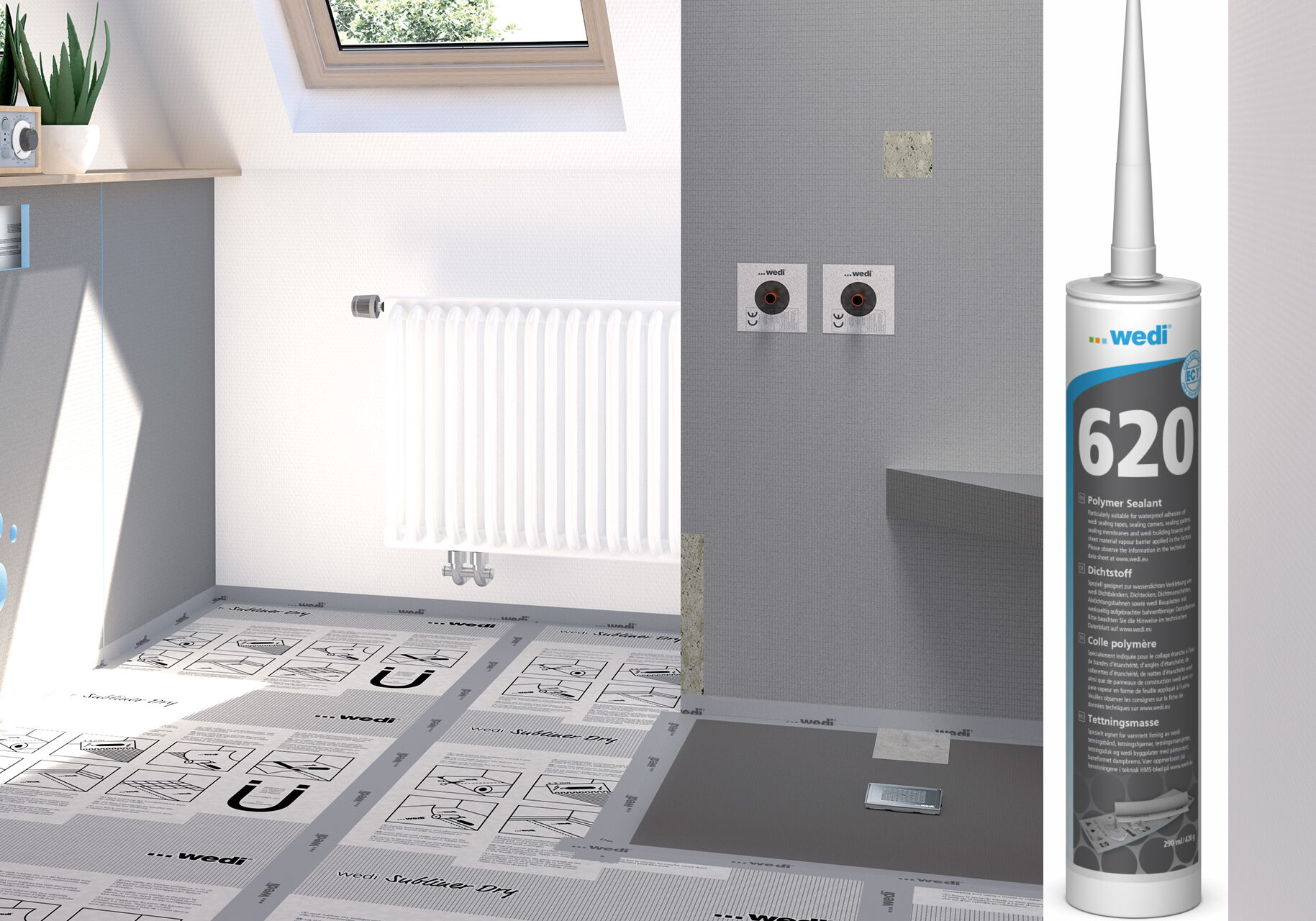 SEALANT 620
Vendor Item #US5000088- Style #WE-VAP SEA-62010
Vendor Item #US5000083- Style #WE-VAP SEA-620
wedi® 620 Vapor-tight Flexible Sealant
wedi® Sealant 620 is indispensable in combination with wedi® Vapor 85 and wedi Subliner Dry. wedi® 620, unlike wedi® joint sealant, is not a standalone construction adhesive. Where wedi® 620 is used to adhere, connect and seal assembly parts, it needs to be used in combination with wedi Subliner Dry sealing tape reinforcing all seams and joints.
Use with a wedi® Sealing Tape to Dry Sheet Waterproof
Strong Connect Vapor 85 Assemblies
Waterproof/Affix Sealing Tape over Seams and Fastener Points
For Any wedi Subliner Dry Products
Packaging: 10.5 oz Cartridge or 20 oz sausage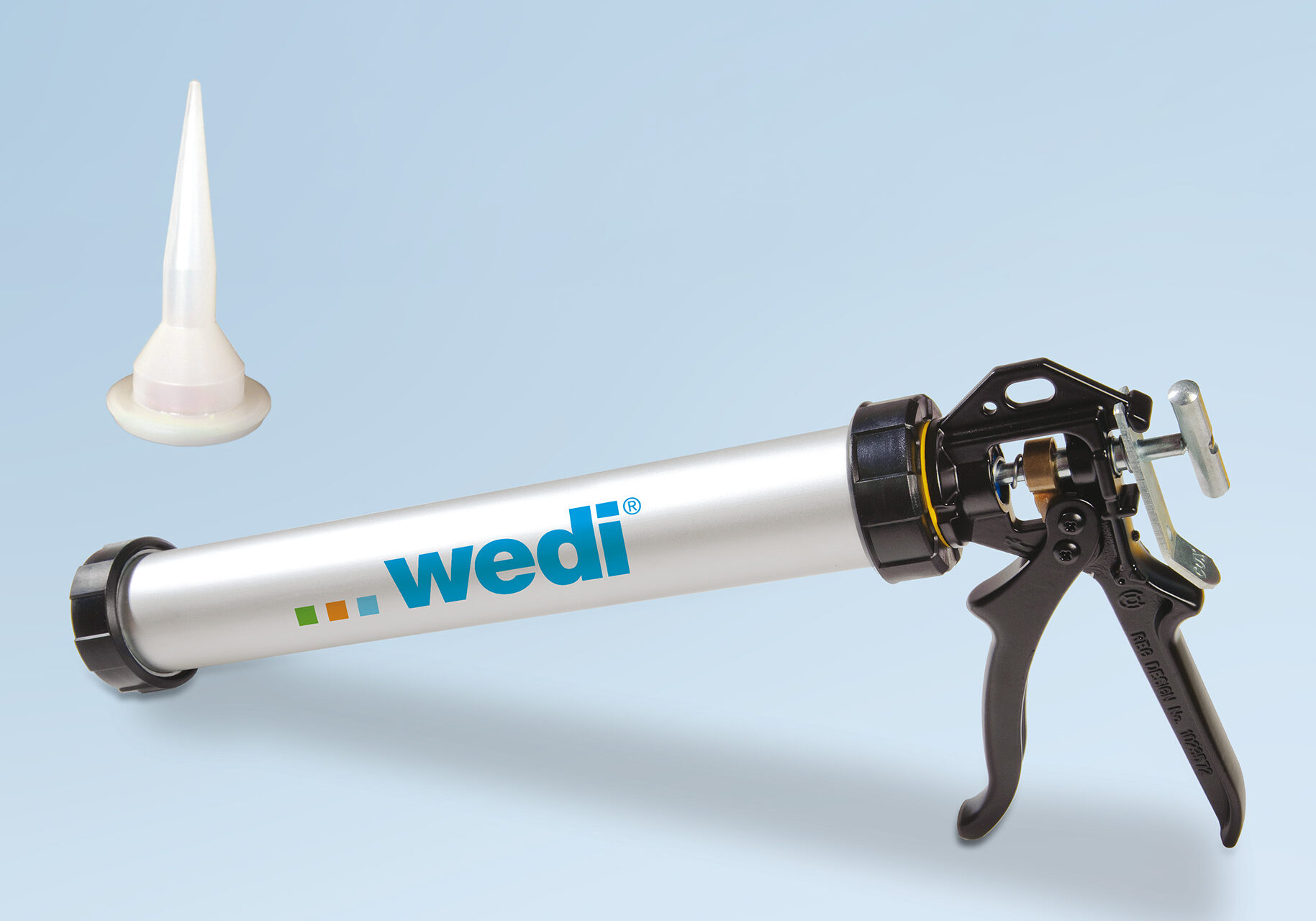 SAUSAGE GUN + TIP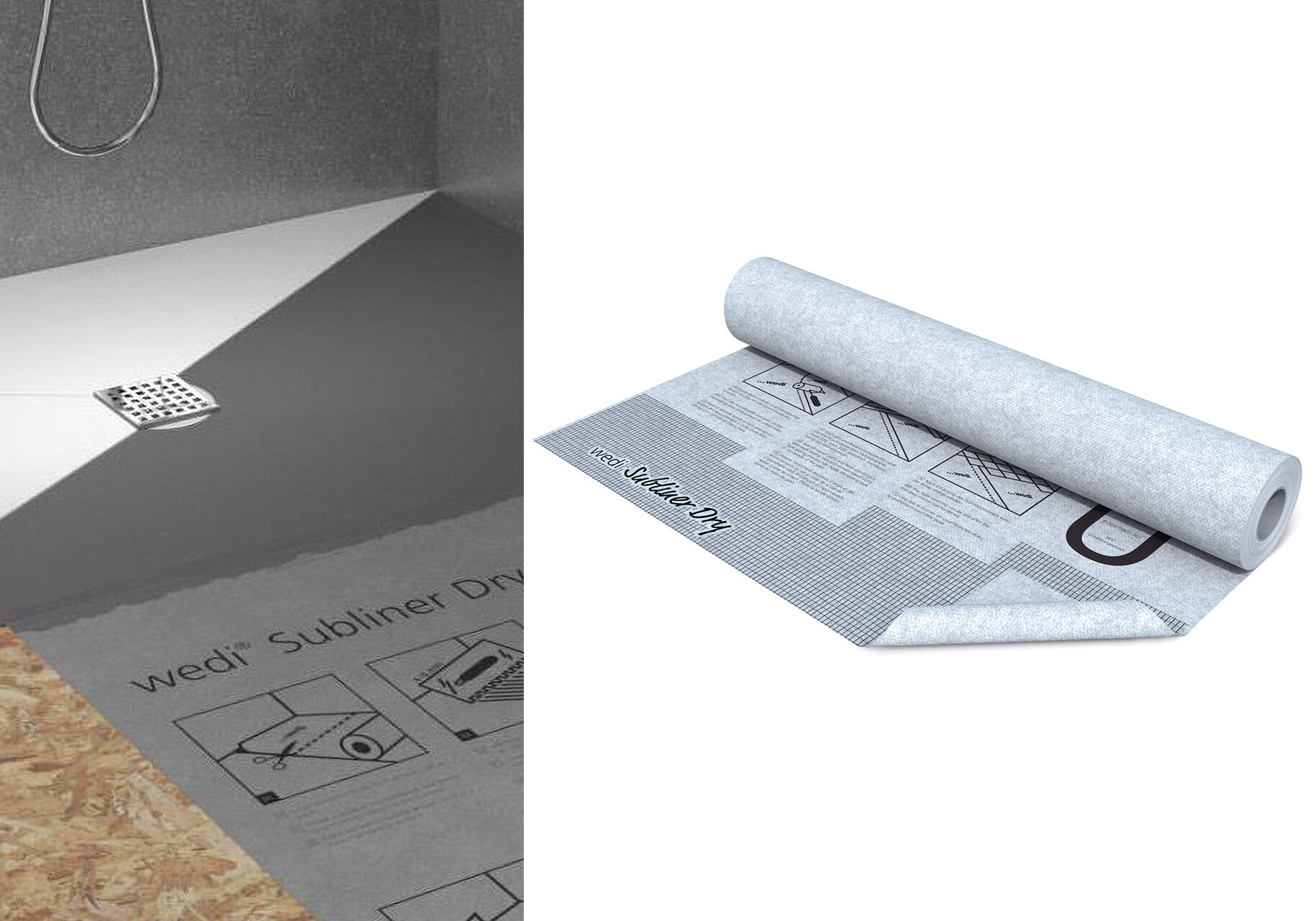 DRY SHEET MEMBRANE
Vendor Item #US5000001- Style #WE-SUB MAT-39x16
Vendor Item #US5000005- Style #WE-SUB MAT-39x98
wedi® Subliner® Dry Waterproofing Sheet Membrane
Used to aid waterproof and vaporproof transition between floor and curbless shower or steam room access. Average curbless shower installation uses 2 rolls of 16ft. long wedi Subliner Dry® mat. Packaged in 16 foot long (53 sqft.) or 98 foot long (322sqft.) rolls (Sheets are 3 foot wide).
39" × 16' (53 sqft) or
39" × 98' (322 sqft)
Packaging: 1 ROLL/CTN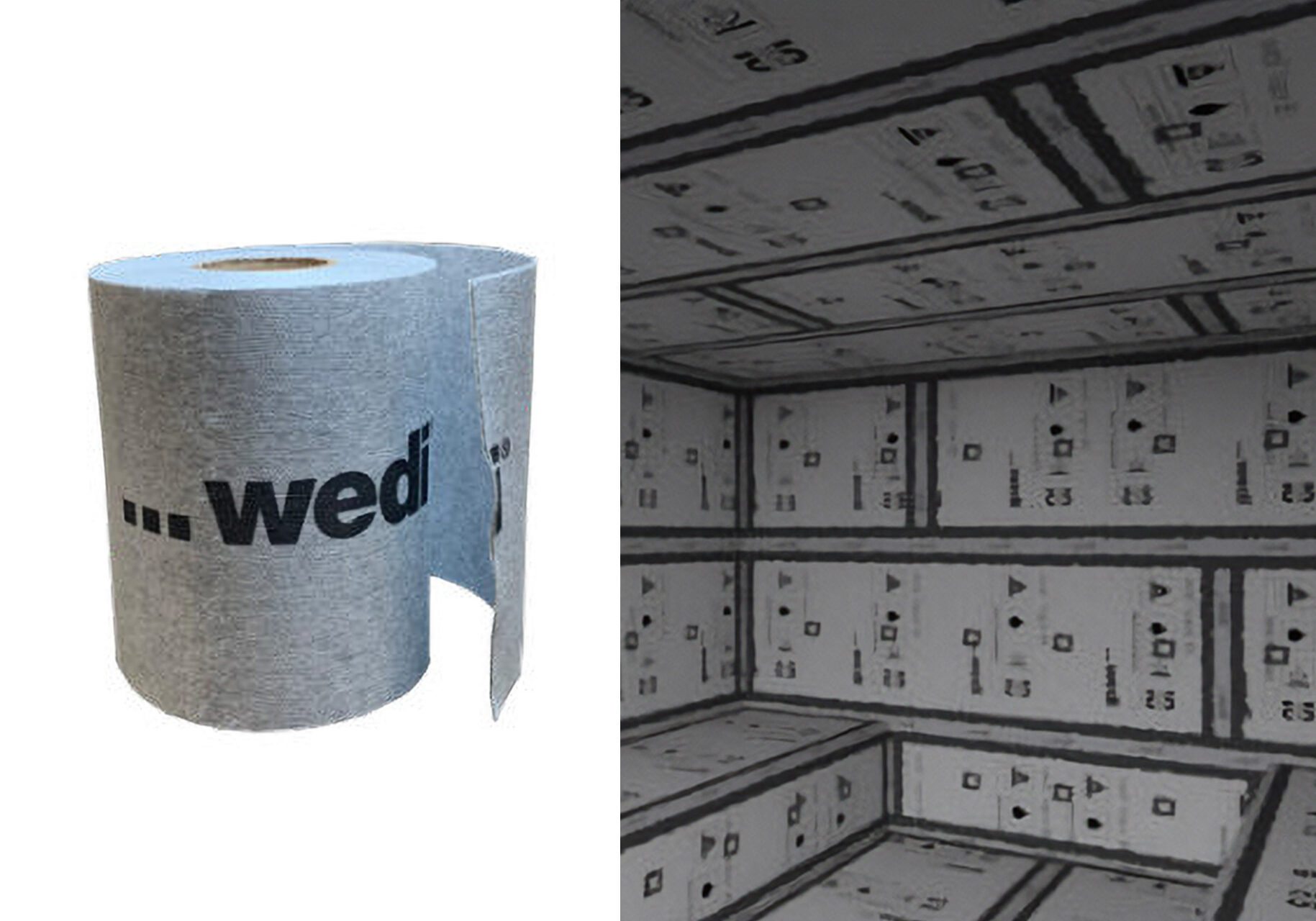 WATERPROOF SEAL TAPE
Vendor Item #US5000002- Style #WE-SUB TAP-5X32
Fleece Laminated Waterproof Sealing Tape
Used to waterproof, vaporproof, and secure transition seams in steam applications. Average 3 x 6 foot steam shower with 4 walls, ceiling and 2 benches uses 3 rolls of wedi sealing tape.
5" x 32.8' (127 mm × 10 m)
Packaging: 1 ROLL/CTN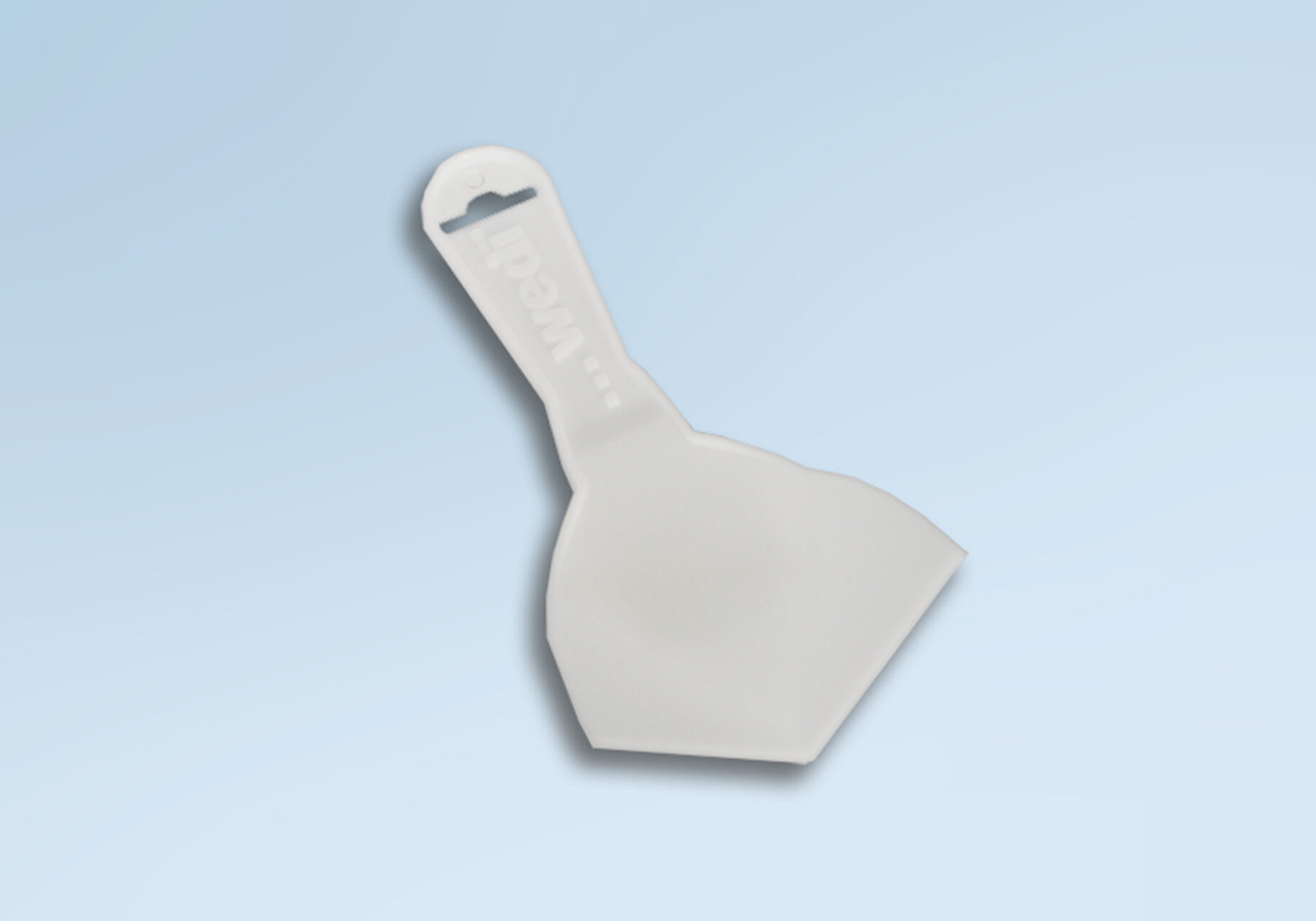 CORNER PUTTY KNIFE
Vendor Item #US5000044- Style #WE-SEA JO-KN
wedi® Corner Putty Knife
Putty knife blade markers indicate proper seam treatment width. Shaped with round tip for corner seam sealant application and often used in combination with standard flat putty knifes on flat seams or fastener point sealant application.
Packaging: 1PC/BAG 25 BAGS/CTN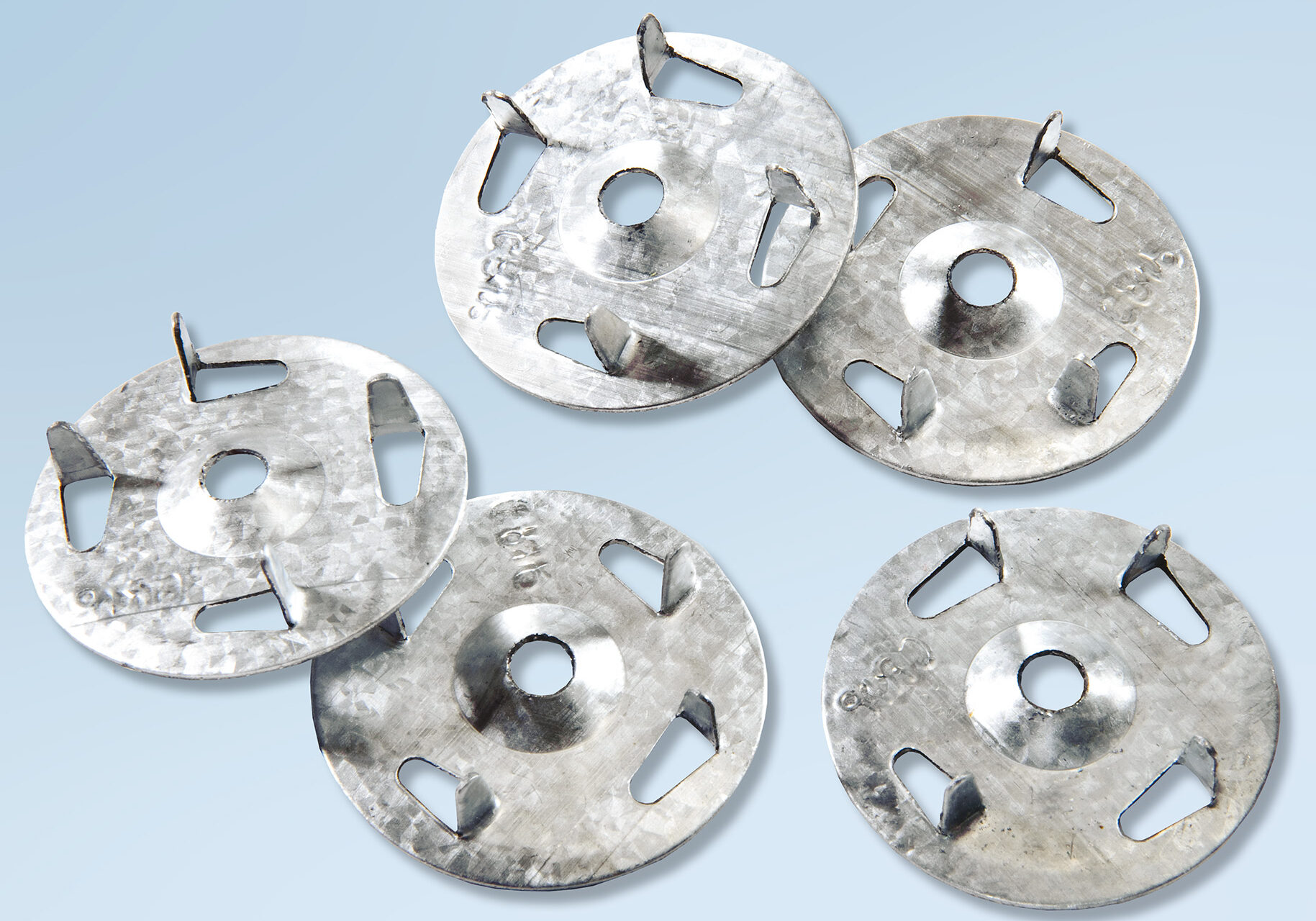 STEEL TAB WASHERS
Vendor Item #US5000009- Style #WE-FAS WAS-1000
wedi® Galvanized Tab Steel Washers
wedi® 1 1/4" tabbed washers provide four tabs for fast and secure placement & a solid gauge according to ISO standards and less potential for deformation. Install wedi® Building Panels to wall framing using wedi® fasteners & washers for safe load distribution.
Packaging: 1 1/4" - 1000 PCS/BOX 1 BOX/CTN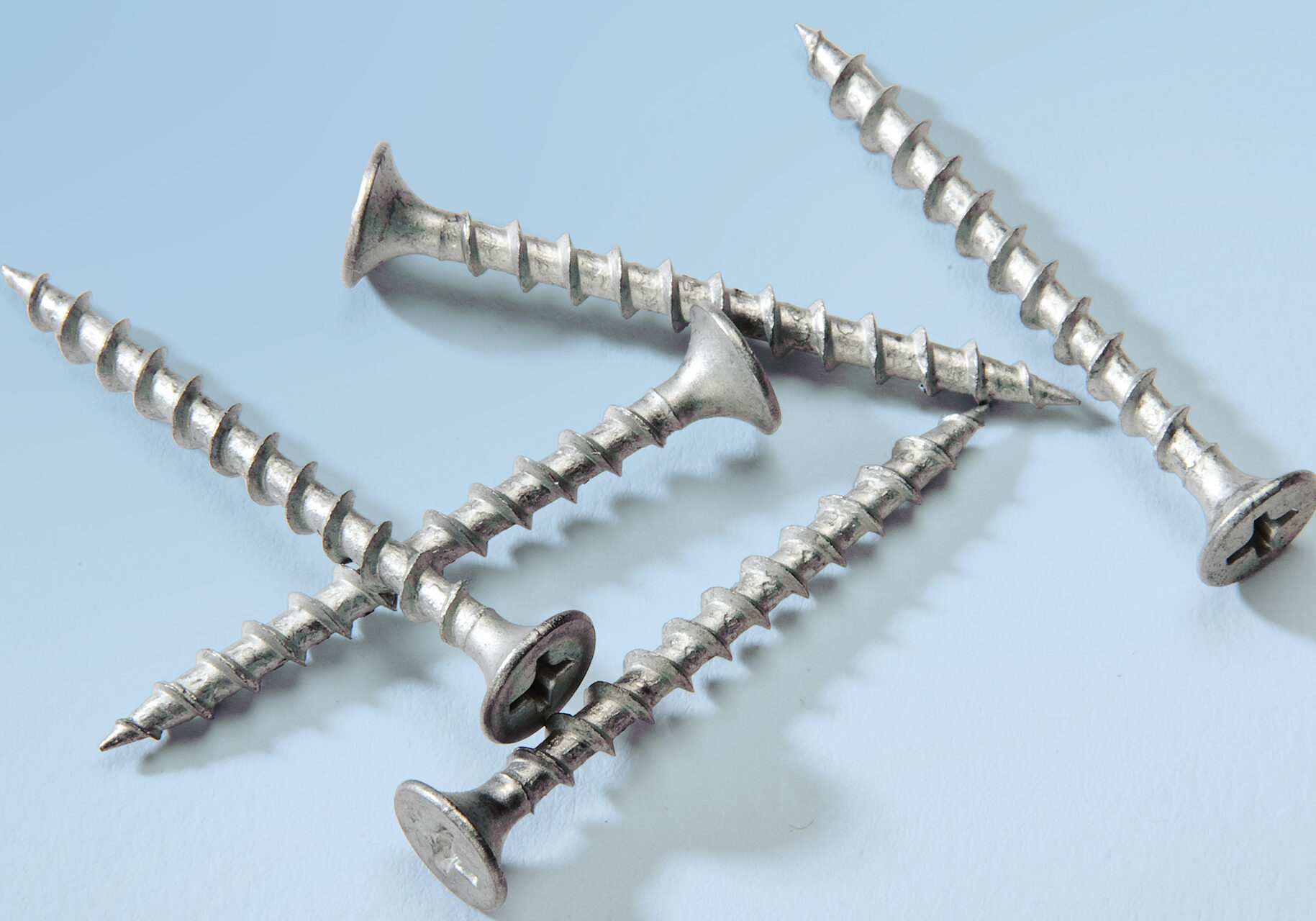 COARSE THREAD SCREWS
Vendor Item #US5000012- Style #WE-FAS SCR-1000
wedi® Ceramic Coated Coarse Thread Screws
Use Non- Rust Phillips head Screws with ceramic coating (ACQ compliant) with wood or metal framing 20 gauge or lighter.
Also Available:
Self Tapping Screws for Metal Studs-
Vendor Item # US5000018
1 1/4" - 100 PCS/BOX
Packaging: 1 5/8" - 1000 PCS/BOX 1BOX/CTN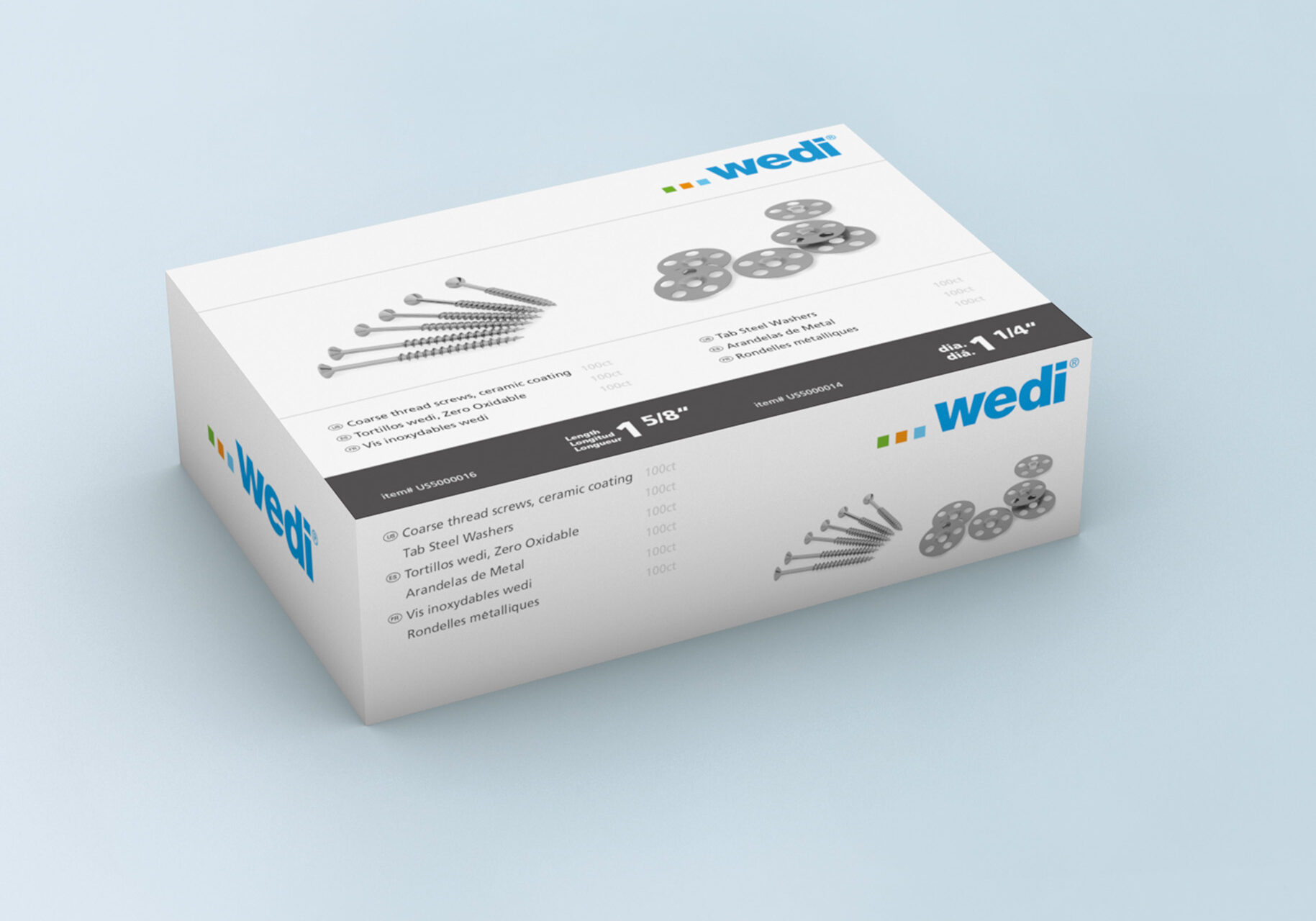 FASTENER KITS
TAB- Vendor Item #US5000070- Style #WE-FAS SCR-100
NO TAB- Vendor Item #US5000086- Style #WE-FAS MET-1-5/8
wedi® Tabbed or Tabless Fastener Kit
Plan to use 1 wedi screw and washer per ft2 of wedi Building Panel. Tabbed washers provide four tabs for fast and secure placement. Use tabless for flooring with 1/4 in. panel, as well as with the wedi Vapor 85 Building Panel.
Pictured (TAB)
100 Coarse Thread Screws - 1 5/8"
100 Tab Steel Washers - 1 1/4"
Packaging: 200 PCS/BOX 1 BOX/CTN
wedi® Valve & Drain Accessories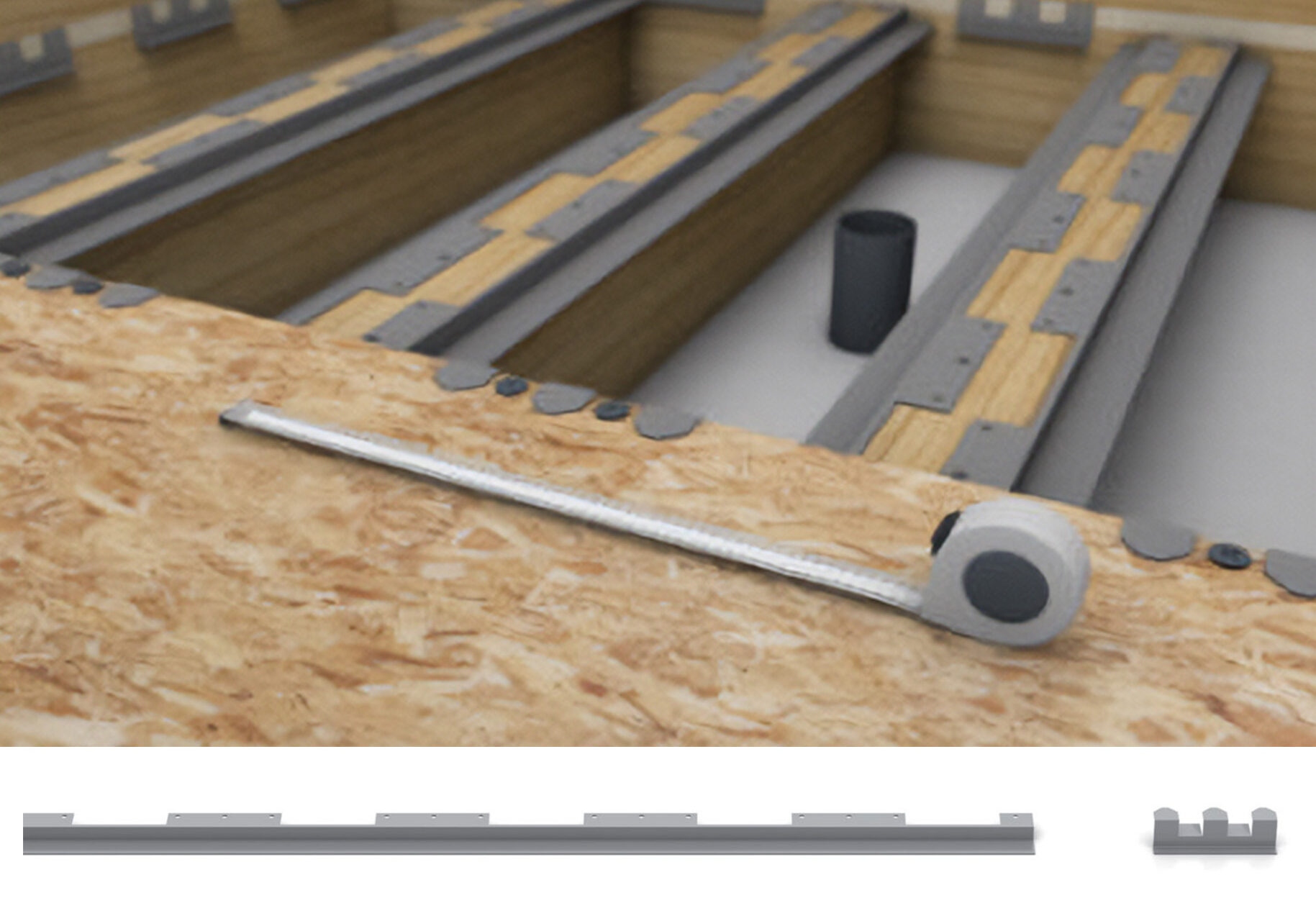 RECESS INSTALLATION KIT
Vendor Item #US5000085- Style #WE-FUN LIG-KIT
wedi® Fundo® Ligno® Recess Installation Kit
For recessing plywood floors between floor joists or a wedi® Fundo® Ligno® Shower Base up to 60 in. x 60 in. (1524 × 1524 mm) in size. Can be used for over 16" o.c. 2 x 10 solid joists as well as engineered joists.
5' × 5' for 3/4" Plyboard
Packaging: 1 UNIT/CTN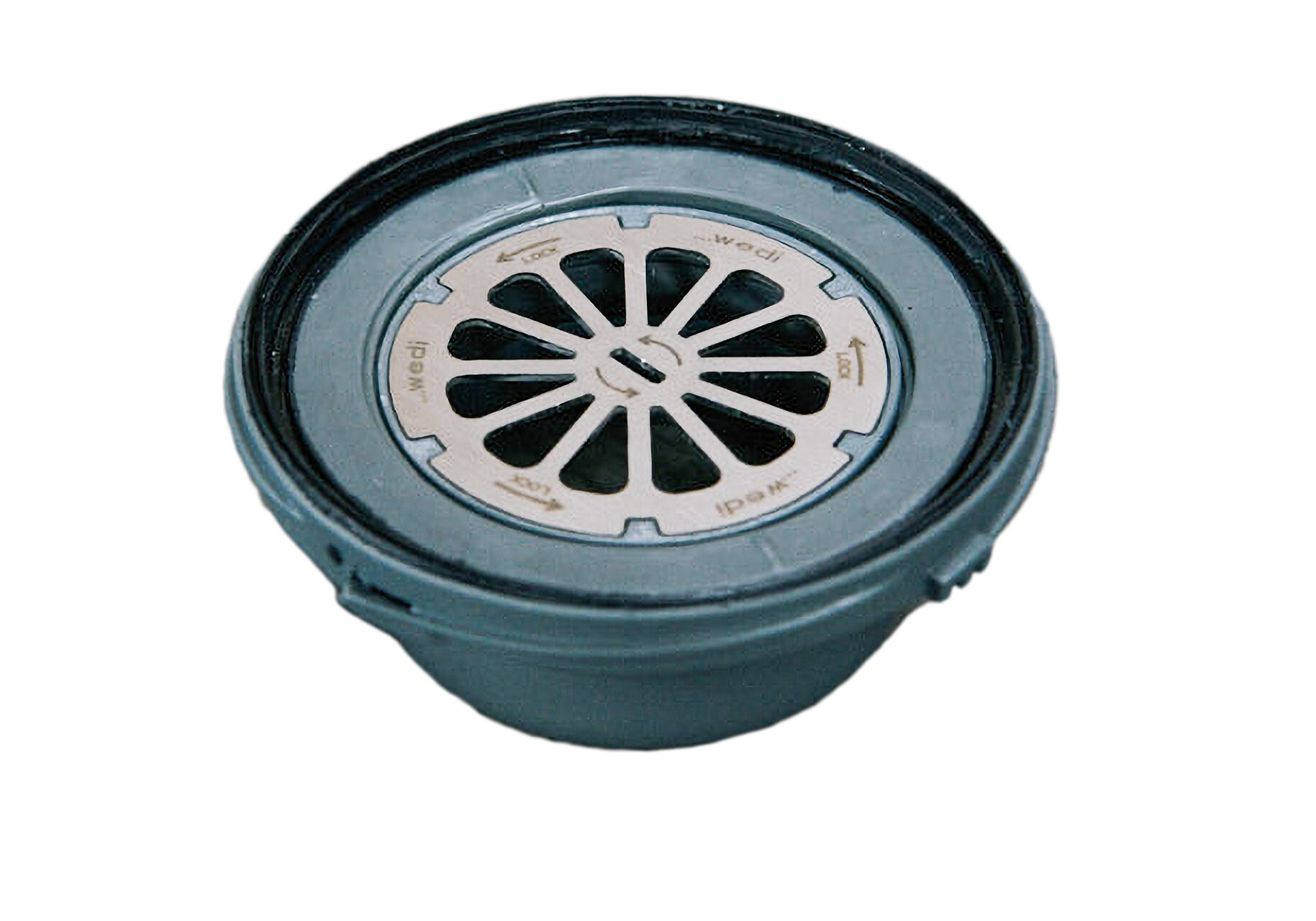 CLICK AND SEAL™ DRAIN
wedi® Fundo® Click and Seal™ Drain
"Click" sound as check point marks visible from top view into drain confirm the drain has properly sealed to wedi base.
Packaging: 1 UNIT/CTN
Commercial grade, solid drain body

 

Fundo Click and Seal

™

Drain fits all Fundo shower bases
Drain Assembly included with every Fundo shower base or kit
Drain cover can move both vertically and laterally to accomodate any size tile

 

Drain cover can be selected a la carte, but standard cover remains included with Kits
Drain is equipped with extra weepholes for faster draining of water from thinset mortar layer
Hair strainer now included in drain assembly
Fast, clean and simple installation

 

No plumbing license, glue or sealant needed
"Click" sound as check point marks visible from top view into drain confirm the drain has properly sealed to wedi base.

 

Seals to ABS, PVC, or cast iron waste pipe- even on drain/floor pipes up to 5° out of plumb
A special kit is available to seal to copper pipe
Can be cleanly and safely disassembled and reassembled, if plumbing needs to be replaced

 
Item#

Name

Includes

Vendor # 77000054

Fundo Click and Seal™
Height Adjustment Kit

Drain Cover Extension, Alignment Ring 1, Snap Ring 2

Vendor # US9500100

Fundo Click and Seal™
Replacement Kit Copper Pipe

Special Sealing Gasket and Compression Spacer for Copper Pipe, Lubricant

Vendor # US9400101

Fundo Click and Seal™
Drain Kit 2"

Drain Body, Sealing Gasket, Compression Spacer, Locking Nut, Strainer key, Lubricant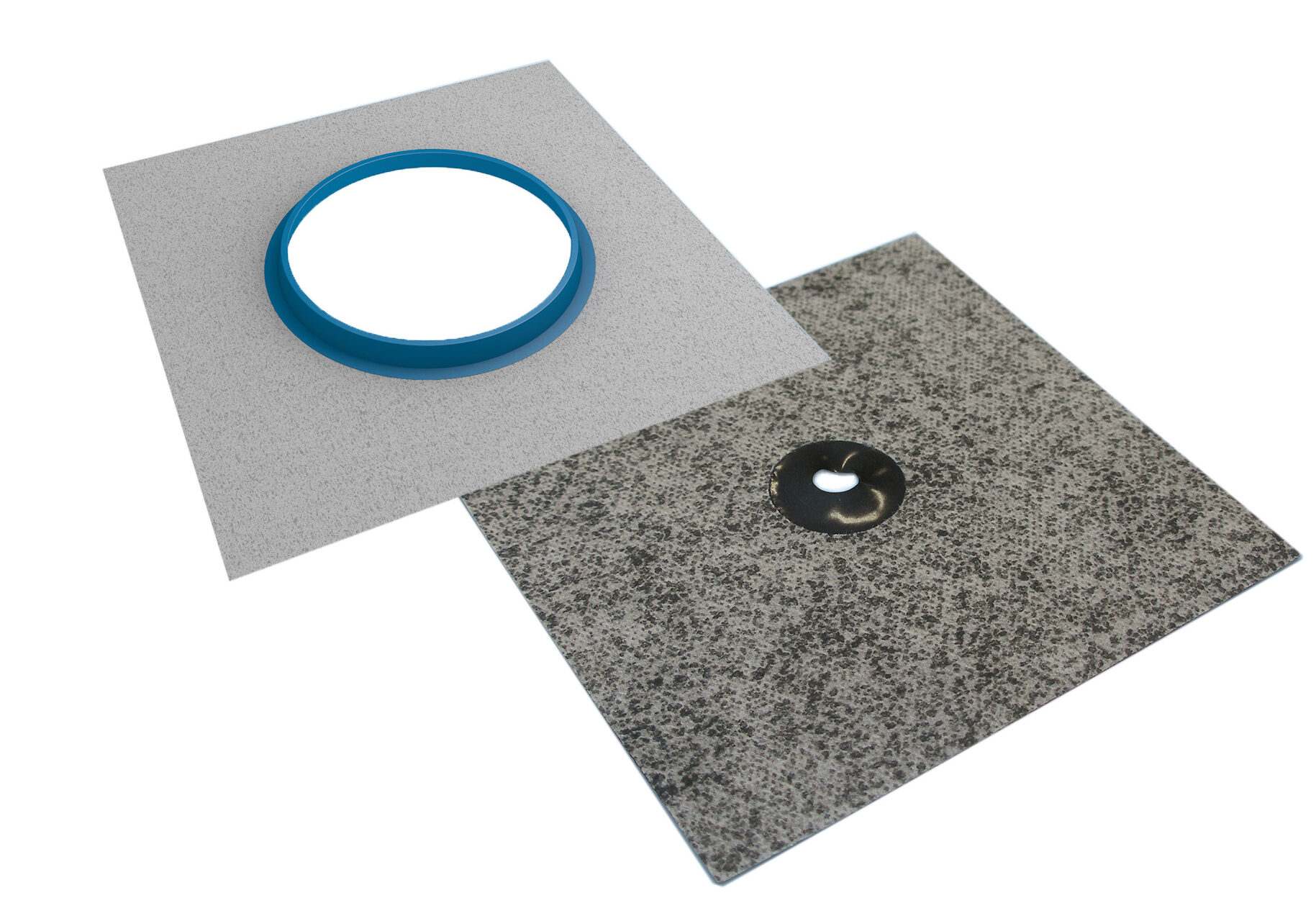 SEAL COLLARS
wedi® Sealing Collars
These can be installed in all shower and steam room installations with wedi Subliner Dry and the wedi Vapor 85 system. In steam room installations be sure to use wedi 620 Sealant. In wedi Fundo shower assemblies and where applied over wedi Building Panel, you may use regular wedi Joint Sealant to install the products.
5" x 32.8' (127 mm × 10 m)
Packaging: 1 ROLL/CTN
Item #

Name

Size

Vendor # US5000033
Style # WE-SUB COL-PIP

Flexi Collar
1/2"-3/4" Pipe Protrusion

4 3/4" x 4 3/4"
(115 x 115 mm)

Vendor # US5000000
Style # WE-SUB MIX-VAL

Mixing Valve Flexi Collar

ø 3 15/16"
(100 mm)
Catalogs and Installation Data
Shower Kits, Panels, Benches, Niches & Accessories
wedi®
Industry leaders in wetroom design and preparation.