Ardex offers a variety of grout types based on the job application. Choose from 5 different palettes offering at least 7 colors each.

ARDEX COLOR PALETTES - GROUT
Grouting Systems
ARDEX has developed revolutionary tile and stone grout technology enabling installers fast track solutions while providing the same easy-to-use characteristics of our adhesives and mortars. With 36 colors and whether an installation calls for sanded or unsanded grouts, ARDEX has you covered and offers the only epoxy grout that cleans with just water!
Choose a Grout Color with Ardex Grout Selector Tool.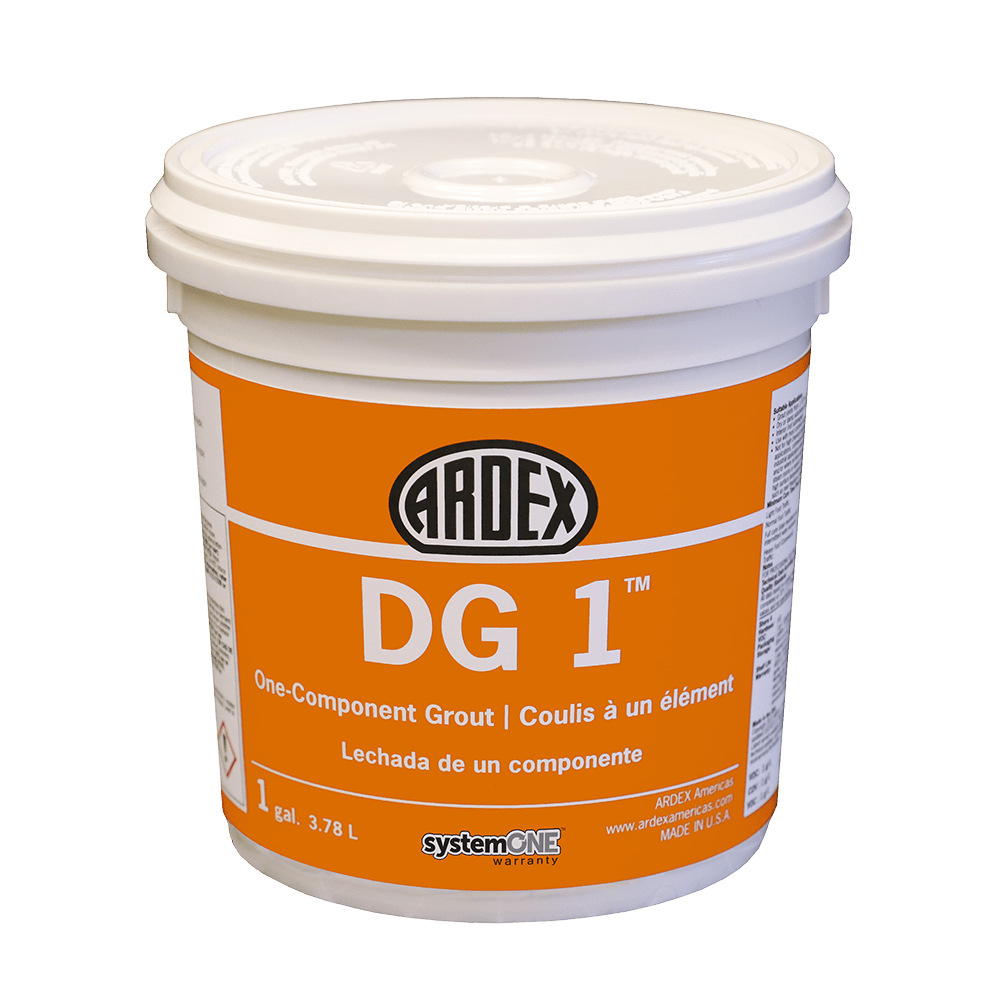 ARDEX DG 1™
Vendor Item #DG 1
One-Component Grout
Currently available in: Antique Ivory, Battleship, Black Licorice, Caraway, Charcoal Dust, Gunmetal, Misty Blue, Polar White, Sahara Drift, Silver Shimmer, Stone Beach, Fresh Lily, Sugar Cookie, Irish Creme, Vintage Linen.
Ready to use; can be used straight from pail with no additional water
For use in both commercial and residential applications
Use with porcelain, glass, quarry, ceramic and most natural stone (moisture insensitive) tiles
Stain resistant, water repellant and highly flexible
Use for grout joints from 1/16" to 1/2" (1.5 mm to 12.7 mm)
Efflorescence free and crack resistant
Mold and mildew resistant
No sealer required
Thicker formula for easier vertical applications straight from the pail; no need to add water
Packaging: 1 GAL.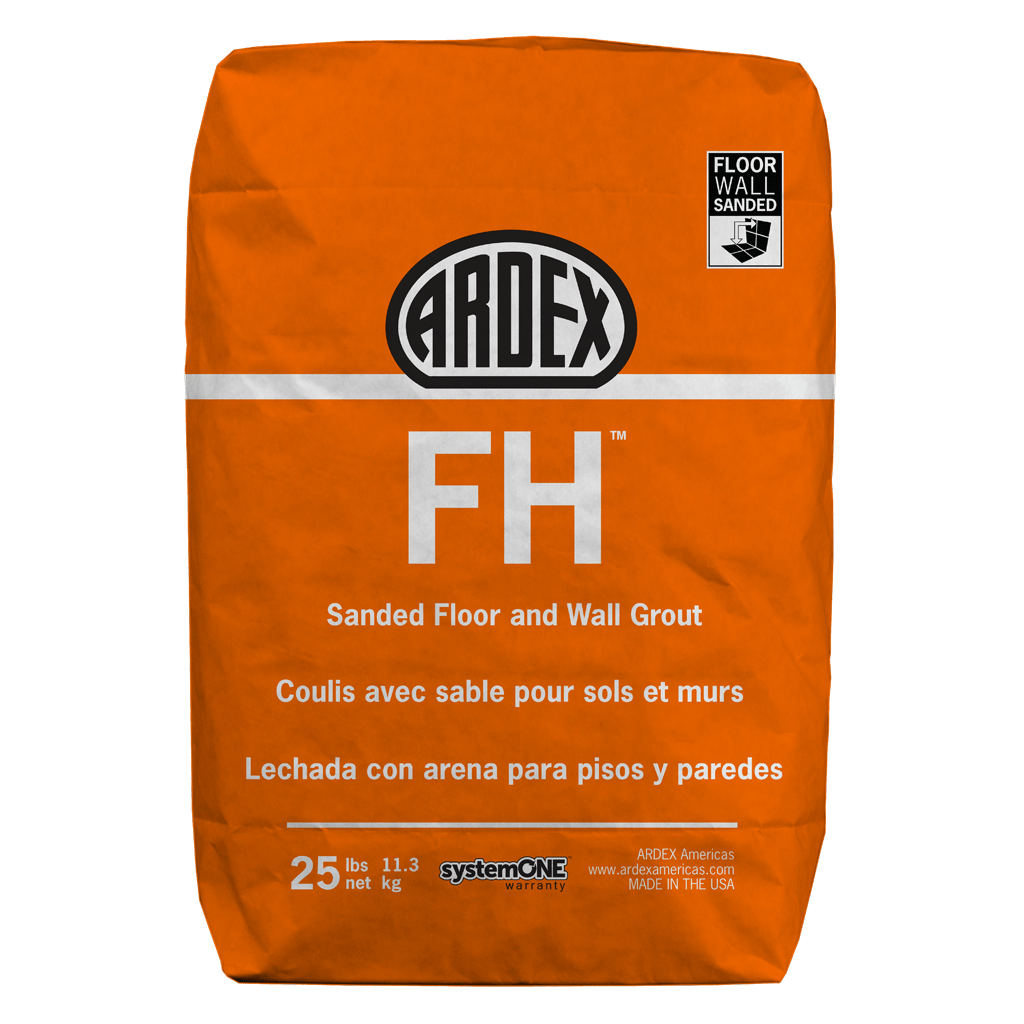 ARDEX FH™
Vendor Item #FH- Style #AR-FH
Sanded Floor and Wall Grout
ARDEX FH™ Sanded Floor and Wall Grout is an ideal, everyday, Portland cement-based, polymer-modified grout suitable for most sizes of floor and wall tiles, including mosaics, with grout joints from 1/16" to 3/4" (1.5 mm to 19 mm). When mixed with water, ARDEX FH is a creamy, easily applied grout with good joint filling properties, enabling deep joints to be filled in one operation. When cured, ARDEX FH is weather resistant, unaffected by water and is suitable for internal and external use in dry or wet conditions.
Use with porcelain, glass, quarry, ceramic and most natural stone tiles
For grout joints 1/16" to 3/4" (1.5 mm to 19 mm)
Very easy to apply and clean
Interior and exterior floor and wall applications
Available in 36 colors
Packaging: 25LBS / Also available- 10LBS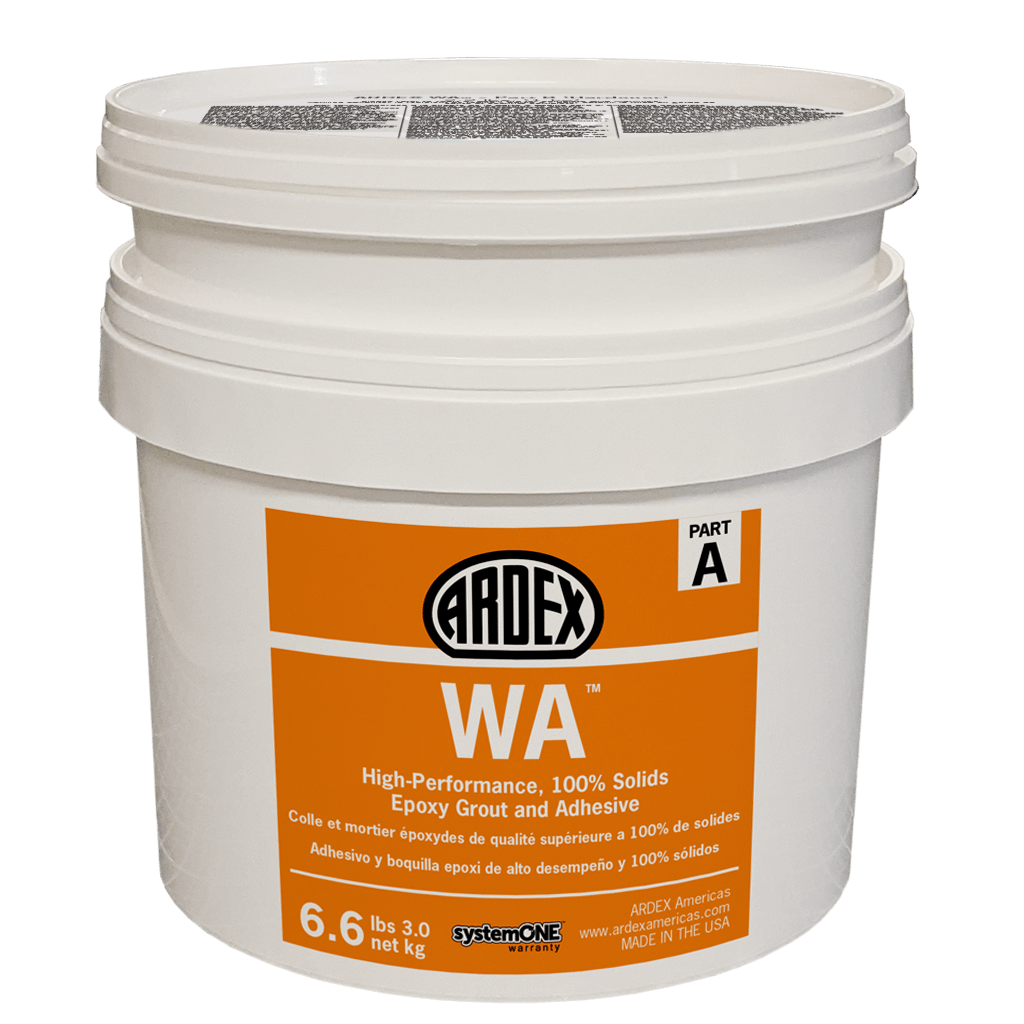 ARDEX WA™
Vendor Item #WA
High Performance, 100% Solids Epoxy Grout & Adhesive
ARDEX WA™ High-performance, 100% Solids Epoxy Grout and Adhesive is a solvent-free, two-component epoxy grout and adhesive. ARDEX WA is suited particularly for tile installations in industrial areas, swimming pools, hot tubs, showers, bathrooms, dairies, meat packing facilities, breweries, hospitals and any installation requiring high standards of hygiene and chemical resistance. Tile installed with ARDEX WA can be grouted in 12 hours. Available in 36 colors.
Grout joints up to 1/2" (12 mm) wide
Use where maximum chemical resistance and/or hygiene and cleanliness are required
Use for applications in food processing, industrial, institutional and commercial facilities
Ideal for swimming pools, hot tubs and other wet areas, can be submerged after only 7 days
Very easy to clean with only water
Use for interior and exterior floors and walls
Waterproof and frost resistant
Solvent free, low VOC's
Packaging: 6.6 LBS
SLUs, Patch, Primers, Thinsets, Shower Systems & Moisture Mitigation
Ardex Products
are the industry benchmark for contractors, installers and architects.